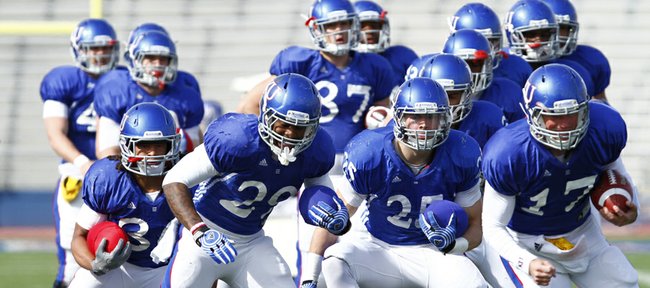 Of all the areas that Kansas University football coach Charlie Weis and his staff upgraded this offseason, one of their proudest improvements may come as a bit of a surprise.
"Well, there's been a lot more fights," Weis said during the final days of spring drills. "And that's always a good thing."
Hear him out. It's not that Weis likes the idea of Jayhawk-on-Jayhawk violence. But the second-year KU coach is all for a little nastiness as long as it stems from increased intensity and competition.
"There's a gray area about trash talking and things like that," Weis said. "Where's the line between you want to encourage it or losing them? I think we're a long way from getting that ornery, nasty mentality across the board, but if they keep on improving the way they've been improving, we'll be much better off going into the season. ... And you want to know something? That's been missing here."
With more than 20 junior-college transfers expected to report to campus today for the first official day of the 2013 season — the first practice is scheduled for 2:50 p.m. Thursday — Weis expects to lean on a handful of newcomers to bring the Jayhawks a little bit of an edge.
"You need some of those guys, believe it or not," he said. "I think that every good defense has some trash talkers on it. Every good defense I've ever seen."
Asked to point out the best trash-talker he had ever coached, Weis offered up three names. The first was New York Giants Hall of Famer Lawrence Taylor and the last was New England Patriots quarterback Tom Brady. But the best? That was easy.
"I think Brian Cox was right at the top of the list," Weis said of the former New York Jets and Miami Dolphins linebacker. "He was a guy I absolutely hated going against when he was with the Dolphins, but when he was on our team, he's my man.
"I once saw him back down an entire Cleveland Browns team. They were notorious, when they came out for warm-ups, for running right through your team. And he stood right where they were at warm-ups and challenged the whole team, saying, if one guy goes through, it's gonna be him and them. One guy. He wasn't surrounded by another 10."
Although this year's Jayhawks don't have a guy with quite that much, um, courage, they do appear to be a much more confident bunch and figure to enter camp looking to prove a lot.
Here's a quick look at a few other areas of emphasis that both the coaching staff and KU fans everywhere will be keeping a close eye on as camp gets started:
1. Is everyone here? — Although most of the newcomers are accounted for and were in Lawrence throughout the summer, there are a few junior-college transfers who have yet to report to campus. They may not all make it by today, but Weis said throughout the offseason that he expected all of the newcomers to qualify academically and report in time for camp.
2. Crank up the competition — One of the biggest advantages the Jayhawks will have this August versus last is the presence of competition at just about every position. Instead of giving most of the reps to the front-line guys and hoping not to need the rest, this year's fall camp figures to include some heated position battles, both for starting spots and backup roles. Some of the most intense competitions figure to take place along the defensive line, at safety and at wide receiver.
3. Go-time for Jake Heaps — We know who he is, where he comes from and what he hopes to accomplish. And now it's time for KU's top quarterback to begin his on-field career. By all accounts Heaps has been a great leader and the ultimate team guy throughout the offseason. Now the former BYU starter gets to show if he can be KU's next great quarterback.
4. New-look kicking game — Trevor Pardula and Michael Mesh are names KU fans should get to know. The two juco transfers have a leg up in the race to handle KU's kicking duties this fall and should be able to show why throughout August.
5. Any position changes? — We know juco transfer Cassius Sendish has moved from cornerback to safety, but are there any others who have made the switch with him — or should?
6. Injury updates — A few key players missed the spring and a couple of others were banged up this summer. We should learn today who's back, who's out and who's not quite right as camp opens.
7. Updated depth chart — The last time Weis released a depth chart, spring practice had yet to begin and more than 20 newcomers had not even arrived on campus yet. Even still, that pre-spring version of KU's two-deep depth chart included 12 first-year Jayhawks on the first or second teams and 15 new starters. Will those numbers be higher now that nearly all of KU's 2013 recruiting class is in town, or did KU's veterans step up this summer to reclaim their spots?
More like this story on KUsports.com