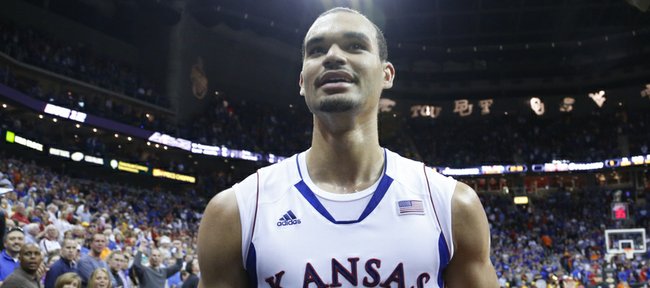 Kansas University forward Perry Ellis had a close-up view as KU freshman teammate Wayne Selden drove baseline and put in a one-handed reverse jam during the adidas Nations camp last week in Los Angeles.
The only problem? Ellis was playing for the other team.
"You can't really do anything (afterwards). Just go the other way," Ellis said with a laugh. "That's going to be great to have (at KU)."
Ellis, Selden and KU freshman center Joel Embiid all participated as counselors at the camp, giving instruction to younger players while also playing in camp counselor games against other collegians.
Ellis mostly went against Baylor's Cory Jefferson, UCLA's David and Travis Wear and Louisville's Montrezl Harrell.
"I felt I did real well," Ellis said. "I was just really trying to get better."
Ellis was able to showcase his improving offensive game at the camp, which included beating opponents off the dribble and also knocking down mid-range shots.
He's also working on becoming more aggressive as he transitions from bench player to starter this season.
The 6-foot-8 sophomore received positive reviews from social-media reports, with NBADraft.net tweeting Saturday that "KU guys Wayne Selden and Perry Ellis have been 2 of the most impressive performers here."
"I've really been working hard. That's just really showing it's paying off," Ellis said. "That really just makes me want to keep working and keep doing what I was doing."
Ellis also calmed fears about his health after some tweets indicated he was injured during the camp.
While battling inside, Ellis was hit in the right thigh by one of the Wear twins' knees.
"That game I was playing, it was hard to get out the soreness," Ellis said. "But that's about it, though. The next day, it was fine."
Ellis wasn't the only KU player who represented himself well.
DraftExpress.com raved about Selden, saying he was ... "One of the top performers here. Made shots, scored in transition, defended, played under control."
"Wayne's doing real well. Just attacking, knocking down shots," Ellis said. "He was just playing aggressive."
When asked what impressed him most about the 6-foot-5 Selden, Ellis said: "His body. That's a big guard. Just how strong he is. He can do whatever he wants, really."
ESPN analyst Fran Fraschilla also commented on Embiid, tweeting out that he had a "lot of potential" and noted that he'd seen the 7-footer hit a three-pointer.
"From what I saw, he was doing well," Ellis said. "I think he has great moves. He can really fake a defender."
Ellis, who made it back to his hometown of Wichita on Monday, said he'll continue to work out there before school starts on Aug. 26.
Self talks NBA
KU coach Bill Self talked about the possibility of coaching in the NBA during an interview at the Oklahoma Sports Hall of Fame on Monday in Oklahoma City.
"It hasn't really tempted me because I haven't had that many people talk to me about it," Self told Mike Baldwin of The Oklahoman newspaper. "But at some point and time, sure, I think it would (tempt me). It would be great to be able to match wits with the best athletes in the world, but I'm certainly happy where I'm at.
"I'm not saying I never would (coach in the NBA) but I'm locked in."
The comments were similar to what Self said when he was asked about the NBA by ESPN's Andy Katz during an interview on July 25.
"Well, nobody has really flirted with me. I'm not going to say no one has called," Self told Katz. "I don't believe there's been a lot of interest. Personally I think I have one of the premier jobs in the world at any level. I think there's a lot of jobs out there in the league that are hard jobs just like there are college jobs that are hard jobs. I'm blessed to be at a place I think we can attract good players year in and out.
"I think everybody thinks about it, coaching at the highest level, being able to test your skills of your trade against the so-called best of the best, with the best athletes to work with. That's not anything that's ever motivated me. I think everybody thinks about doing different things from time to time not to the point where there's actually serious interest. There hasn't been for me. Then again I haven't been flirted with very much. I love where I'm at. You have been to Lawrence," he said to Katz. "It's a different place. As long as we can keep getting good players hopefully I can stick around awhile."
More like this story on KUsports.com