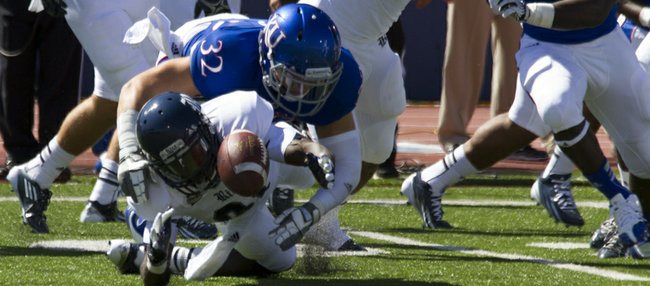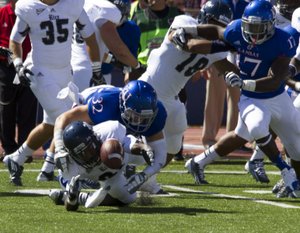 The tendency in today's world of college athletics is to write off a guy if he doesn't come in and make a major impact as a true freshman.
In some cases, freshmen who red-shirt during their first years on campus are given a free pass because, in the eyes of fans, they're still untapped potential and represent, at least in some small way, hope for the future.
And then there are guys like Kansas University linebacker Schyler Miles, a sophomore who played in 11 games last season but did not do enough on the stat sheet to wow fans or foes.
While the adjustment from high school to college and the experience of players ahead of him played a small part in Miles' slow start, there was a bigger reason for his lack of production. Miles, a 6-foot-2, 224-pound middle linebacker from Berkeley Prep in Tampa, Fla., who made just nine tackles during his first season of college football, played injured throughout 2012, taking the field each week on a knee that was not fit for wake-boarding, let alone Div. I football.
Miles has been on the mend throughout the offseason. He spent the spring doing everything he could during KU's 15 practices but sat out of contact drills and missed the spring game. If all went well, he should enter Thursday's fall camp feeling better than he has since high school and also should be given a chance to show what he can do when healthy.
Remember, this is a guy who chose Kansas over Florida on signing day in 2012. A guy whom Florida head coach and former Auburn and Texas defensive coordinator Will Muschamp wanted and a guy whom KU defensive coordinator Dave Campo said was the type of player you could build a defense around.
With a reputation like that and the physical gifts and good instincts Miles possesses, it seems like giving him another chance to make a first impression would be wise.
Too often too many players on college football rosters are labeled bums just because they don't light up scoreboards and fill up highlight reels. Think about it. Each Saturday, only 30-40 of the 85 scholarship players on any given roster contribute directly to the outcome of the game. The rest, whether they're red-shirting or waiting for their chance to play, are thought of as not good enough, if they're thought of at all.
The Jayhawks added four linebackers in the 2013 recruiting class — two high school seniors and two junior-college prospects. One, Pierce College transfer Marcus Jenkins-Moore, is injured and unlikely to playthis season, and true freshmen Kellen Ash and Colton Goeas are in the same position today that Miles was a year ago.
When you consider that the KU defense lost 120 tackles from 2012 linebackers who either graduated or decided to hang up their cleats, it's clear that Campo and company will be counting on at least a couple of fresh faces to step up and take those stats.
Here's betting that Miles, who could open the season as the immediate back-up to junior Ben Heeney, will be one of them.
Biere inked by Atlanta
Former KU tight end Tim Biere recently signed a free-agent contract with the Atlanta Falcons.
Biere, 6-4, 260, from Omaha, Neb., signed a free-agent deal with the Kansas City Chiefs following the 2012 NFL Draft but did not make the roster. He'll face a stiff challenge in Atlanta, with future Hall of Famer Tony Gonzalez and four other tight ends — including two rookies — battling for playing time this preseason.
Biere ranks fifth on KU's all-time list for receptions by a tight end with 66. He hauled in 798 yards and six touchdowns during his four seasons at KU.
McDougald, Opurum make depth chart
Rookie free agents and former Jayhawks Bradley McDougald and Toben Opurum made the Kansas City Chiefs' initial depth chart of the 2013 season.
McDougald, a safety, was listed as a third-string strong safety behind Eric Berry and Quintin Demps. Opurum, a fullback who played three seasons of defense while at KU, also was listed as a third-teamer behind third-year pro Anthony Sherman and 2013 sixth-round pick Braden Wilson, of Kansas State.
More like this story on KUsports.com