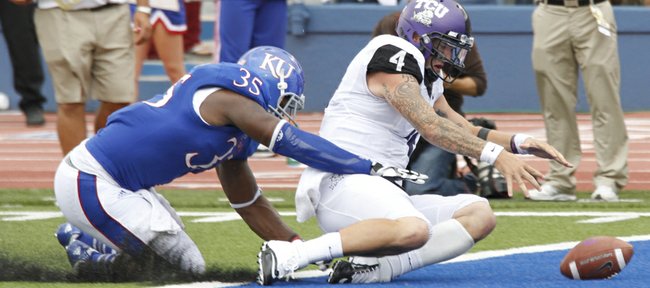 Spread offenses choreographed by accomplished coaches and speedy receivers have played a big role in the Big 12 fielding the nation's most exciting scoring machines, but gifted quarterbacks deserve even more credit.
Year in and year out, the Big 12 has an abundance of experienced, record-setting quarterbacks vying for first-team all-conference honors.
Except this year.
The departures of Kansas State's Collin Klein, West Virginia's Geno Smith, Oklahoma's Landry Jones, Baylor's Nick Florence and Texas Tech's Seth Doege make the conference more of a mystery than in most seasons.
Name the Big 12 quarterback who has thrown the most Div. I passes.
No, not David Ash of Texas, who ranks second with 492 passes. Not Casey Pachall of TCU, who is third with 449 passes.
Would you believe the answer is Jake Heaps of Kansas, who threw 635 passes in two seasons at Brigham Young University?
Heaps ranks third in passing yards (3,768), behind Pachall (3,947) and Ash (3,778), but he is first in pass attempts and interceptions (17).
The underwhelming statistics Heaps compiled in two seasons as an on-again, off-again starter at BYU, combined with Dayne Crist's rough season at KU, make some skittish about the five-star quarterback from Sammamish, Wash.
Statistically, he can't come close to what Pachall has done at TCU. At BYU, Heaps completed 57 percent of his passes, averaged 5.9 yards per attempt and threw 24 touchdown passes with 17 interceptions. Pachall: 66 percent, 8.8 yards per attempt, 36 touchdowns, eight touchdowns.
OK, so Heaps has been no Pachall, but that doesn't mean he will be another Dayne Crist.
Ponder a best-case scenario: KU coach Charlie Weis has the same impact on Heaps as he had on Notre Dame quarterback Brady Quinn. Quinn played the first half of his career for Ty Willingham, the second half for Weis. Heaps played his first two years for BYU's Bronco Mendenhall.
Quinn's first two years: 51 percent, 6.4 yards per attempt, 26 touchdowns, 25 interceptions. His two years under Weis: 63 percent, 8.0 yards per attempt, 69 touchdowns, 14 interceptions.
Suppose Heaps encounters that type of transformation. Suddenly, a team Las Vegas oddsmakers put at 3.5 for an over-under victories proposition, could play its way into bowl contention.
If several other Big 12 schools' first-time starters fall short at quarterback, that makes the schedule a little less intimidating than it looks at the moment. Not that there isn't talent at the quarterback position. There always is in the Big 12. It's just not as experienced as in most years.
A look at quarterbacks in the conference:
Baylor's Bryce Petty, a junior, has thrown just 14 passes, but look at who played ahead of him: Robert Griffin III and Nick Florence. Art Briles has a habit of putting his quarterbacks in postion to succeed, so there's reason to believe Petty could have a strong year.
Iowa State's Sam Richards, in his first college start, torched Kansas by completing 23 of 27 passes for 250 yards and four touchdowns. In so doing he proved he's too good for a defense that had no pass rush, very little team speed and unsure tacklers at safety. He didn't perform nearly as well after that. Give him an incomplete grade.
Kansas State coach Bill Snyder guards team secrets as if doing otherwise would put the nation's security at risk. Still, the best guess is Snyder will go with Jake Waters, offensive junior college player of the year after throwing 39 touchdown passes, instead of Daniel Sams, a better runner than passer.
Oklahoma coach Bob Stoops insisted early Blake Bell hadn't won the job yet, and indeed he didn't; Stoops named freshman Trevor Knight the starter on Aug. 23. If he remains essentially a goal-line quarterback this year, the Belldozer will kick himself for not staying in state to play for either Kansas or Kansas State.
Oklahoma State has two quarterbacks better than many teams' starter in senior Clint Chelf and sophomore J.W. Walsh, a pair of guys who lack neither talent nor experience.
Texas has a capable QB in Ash, but what's with those heated benches they take on road trips? Imagine how less colorful late great voice of the NFL John Facenda's Green Bay Packers highlights would have been had Ray Nitschke been seated on a heated bench.
At TCU, Trevone Boykin did a decent job after Pachall checked into alcohol rehab in the wake of a drunk-driving arrest, but Pachall's the better talent. Pachall has the goods that could enable the Horned Frogs to make a run at a Big 12 title.
Rookie head coach Kliff Kingsbury, fresh off coordinating a Texas A&M; offense led by Heisman Trophy winner Johnny Manziel, isn't afraid to go with youth at quarterback, which is a good thing because he doesn't have much choice. Sophomore Michael Brewer was impressive in limited action as backup to Doege. Brewer completed 34 of 48 passes for 375 yards, did not throw an interception and threw four TD passes. Hot-shot freshman Davis Webb and preferred walk-on Baker Mayfield could get a quick look if the injury to Brewer's back or lack of production keeps him out.
The quarterback sleeper of the Big 12 plays for West Virginia and is a transfer from Florida State. Backup to first-round draft choice E.J. Manuel with the Seminoles, strong-armed Clint Trickett averaged an impressive 8.9 yards per pass during his Florida State career. As a freshman against Clemson, Tricket threw for 336 yards and four touchdowns. He's appears to fit Dana Holgorsen's Air Raid offense ideally.
More like this story on KUsports.com