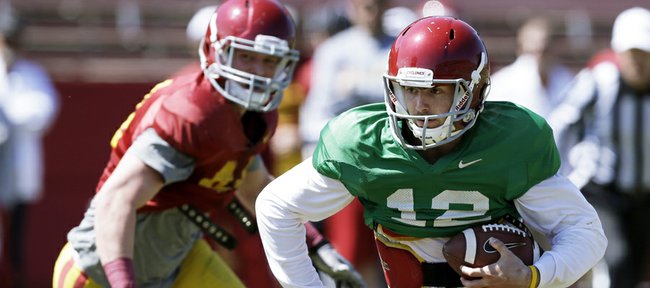 Iowa State coach Paul Rhoads described it as the most boring, uneventful and terrific media days in his five years with the Cyclones.
For the first time in a long time, he wasn't attending the late-July festivities with a quarterback controversy.
This year, sophomore Sam Richardson is the undisputed starter after performing well in the Cyclones' final four games of 2012.
"We're anxious to get the offense going with him under center," Rhoads said. " ... It's been fun to watch the man and the leader he's become."
Richardson's breakout performance came against Kansas after he was told by Rhoads in warmups that he was going to play.
The 6-foot-2 QB responded by completing 23 of 27 passes for 250 yards with five total touchdowns in the Cyclones' 51-23 victory in Lawrence.
"The optimism that everyone has is because of Sam," ISU senior running back Jeff Woody said.
ISU is switching up its offense this season, converting to the Pistol formation after averaging just 24.5 points per game last season.
Defensively, the Cyclones will have to fill big holes at linebacker following the graduations of A.J. Klein and Jake Knott, who both were first-team All-Big 12 selections a year ago.
"You don't replace them from what they've meant to our era of Iowa State football," Rhoads said. "They came in that very first fall, they played right away, and they progressed to be the guys that they were and will be remembered to be."
ISU has at least one player with experience at the position, as senior Jeremiah George returns after finishing 16th in the Big 12 with 87 tackles last season.
The Cyclones, who have made bowl games in three of Rhoads' four seasons, don't seem to be affected by the low expectations that come with having a young team.
Big 12 media members picked ISU ninth in the preseason poll, ahead of only KU.
Rhoads told his players after last year's 6-7 season that the goal was to finish in the top half of the league.
"That would be a moderately successful season," Woody said. "It wouldn't be a disappointment if we finished fourth in the conference. What would make it as successful as we're looking for is to be a conference champion.
"That would be the successful season that we're looking for, is to go into every game knowing that, 'We've got this one won because we executed well and we played well.'"
More like this story on KUsports.com