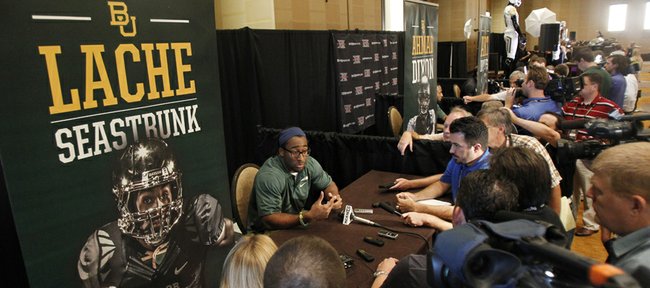 Baylor running back Lache Seastrunk has given up watching ESPN. He says it just makes him mad that his team doesn't get the publicity it deserves.
"We do talk about it, because we feel like we get underrated all the time," Seastrunk said. "Or we get belittled."
The Bears, who finished 8-5 overall and 4-5 in the Big 12 a year ago, also are still trying to gain their own respect two years removed from quarterback Robert Griffin III.
It hasn't been easy.
"People keep living in the RG3 era. They keep living in it. Give that up," Seastrunk said. "He won the Heisman Trophy. It's an open-and-shut case. Let us have our own image."
For his part, Seastrunk hasn't been shy about trying to bring additional attention to the program.
The preseason Big 12 offensive player of the year made headlines in December when he told The Sporting News, "I'm going to win the Heisman. I'm going to win it for 2013."
Seastrunk, who averaged 7.7 yards per carry in 2012, faced a throng of reporters at Big 12 media days in Dallas who asked him about the comment.
"I'm not taking anything back from what I said," Seastrunk said. "I have a team behind me. I have the greatest put-together team in the world. Why not? That's what I've been saying all day. Why not?"
If BU is to make a run at a Big 12 championship, it will need to continue its improvement defensively.
The Bears have taken gradual steps in each of the last three seasons, and they played their best in the final four games last year, which included a 52-24 upset over No. 1 Kansas State and a 49-26 victory over No. 17 UCLA in the Cotton Bowl.
"If we start like we finished last year defensively, which I expect to," BU coach Art Briles said, "then we're going to be a very formidable opponent. I can guarantee you that."
Offensively, Bryce Petty will take over at quarterback, and he'll have plenty of weapons on the outside.
Junior Tevin Reese (957 receiving yards in 2012) and sophomore Levi Norwood (487 yards) lead a Bears' receiving group that —much like past years — is filled with speedsters.
More like this story on KUsports.com