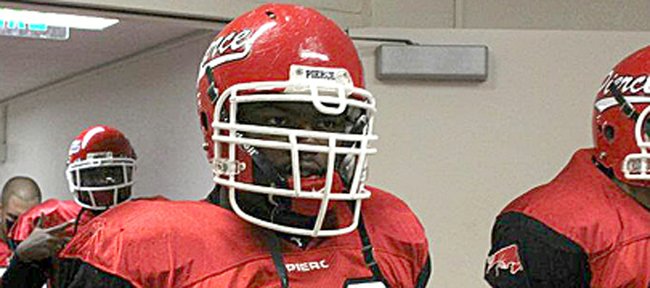 Thanks to his presence on Twitter and in interviews with the local media, top-rated junior-college prospect Marquel Combs made a name for himself as a bit of a jokester throughout his recruitment.
But now that the 6-foot-3, 290-pound defensive tackle has spent some time on campus, his Kansas University teammates say they've learned how to spot the difference between Marquel the comedian and Marquel the machine.
"It doesn't take long when you're hanging out with Marquel to figure that out," senior defensive tackle Shane Smith said. "There's the hard-working side of him, but then there's that light-hearted, humorous side. He knows how to have fun but still put in work."
Junior-college transfer Cassius Sendish said he and Combs developed a solid bond before spending time together. Most of that came through text messages or Twitter, and Sendish said that was where the two probable starters mapped out how they expected the 2013 season to unfold.
"Now that he's here, everything we talked about before, we're in the process of making it happen," Sendish said.
Although Combs has stayed focused in the weight room this summer — Smith said his new teammate needed no transition period — he also has managed to be that fun-loving guy who became KU's unofficial recruiting guru throughout the months of December and January.
"He knows when to flip the switch," Sendish said. "He knows when he can be joking around, and he knows when it's time to get down to business. He's very well-rounded."
Combs and the rest of the Jayhawks will begin fall camp Wednesday.
Bears ink ex-Jayhawk
The Chicago Bears on Wednesday signed former KU defensive end Josh Williams to a free-agent contract. The 6-4, 257-pound Williams started all 12 games for the Jayhawks in 2012 after transferring from Nebraska for his final season of eligibility.
Williams participated in Chicago's mini-camp in May and was welcomed back this week because of a recent outbreak of injuries on the Bears' defensive line.
Cornish honored
KU single-season rushing leader Jon Cornish got his seventh season in the Canadian Football League off to a great start in July, rushing for 501 yards and three touchdowns for the Calgary Stampeders and earning Canadian Player of the Month honors.
A native of Westminster, British Columbia, Cornish currently ranks second in the CFL in rushing and is coming off of a breakout season in which he set the CFL record for most rushing yards in a season by matching the exact total — 1,457 yards, on 258 carries — he recorded when he set KU's single-season record in 2006.
Cornish is one of three Jayhawks playing in the CFL. Raymond Brown plays defensive back for the Hamilton Tiger-Cats, and Marcus Henry, a member of the 2008 Orange Bowl championship squad, is a receiver for the Edmonton Eskimos.
More like this story on KUsports.com