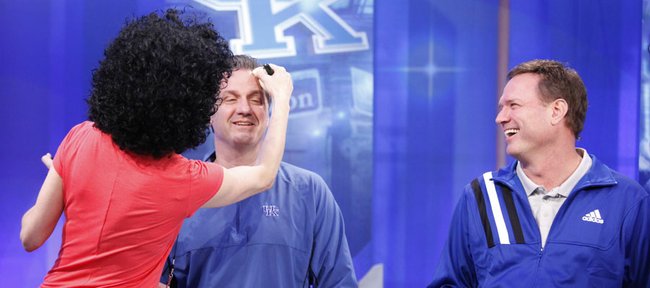 Kentucky basketball coach John Calipari, who worked on the staffs of both Larry Brown and Ted Owens at Kansas University, and current KU coach Bill Self rank as the top two recruiters of all head coaches in the country, according to a summer survey of 200 coaches by ESPN.com.
Calipari came in at No. 1, followed by Self, Arizona's Sean Miller, Louisville's Rick Pitino, Florida's Billy Donovan, Michigan State's Tom Izzo, Duke's Mike Krzyzewski, St. John's Steve Lavin, Florida State's Leonard Hamilton, Baylor's Scott Drew, North Carolina's Roy Williams, Memphis' Josh Pastner, Ohio State's Thad Matta, Syracuse's Jim Boeheim, VCU's Shaka Smart, Marquette's Buzz Williams, Indiana's Tom Crean, N.C. State's Mark Gottfried, Villanova's Jay Wright and Wichita State's Gregg Marshall.
"Recruiting is a never-ending process," said Self, who has signed Rivals.com top 15-ranked players in Andrew Wiggins (1), Josh Selby (1), Xavier Henry (8), Julian Wright (8), Wayne Selden (12), Mario Chalmers (12) and Brandon Rush (13), as well as Joel Embiid, No. 6 by ESPN.
"Not a day goes by you don't do something recruiting-related with prospects you are seriously interested in.
"With Kurt (Townsend), Norm (Roberts) and of course Joe (Dooley, Florida Gulf Coast) just here, Danny (Manning, Tulsa) here and Jank (Tim Jankovich, SMU) before that (and now Jerrance Howard), you've got so many guys who have played a huge role in representing our school and selling it well. We love the product we are selling, but the product alone doesn't sell it. We have to work, and I have a staff that does it as well as anybody."
Of Self, ESPN's Jeff Goodman wrote: "He fell off for a couple of years, but seems to have his mojo back in recruiting circles. He just put together a stellar class led by the nation's top-ranked player, Andrew Wiggins."
Of former KU head coach Roy Williams of UNC, who ranks 11th, Goodman wrote: "I was shocked he checked in this low, to be honest. Personally, I would have ranked him somewhere around fifth. Williams still gets after it on the recruiting trail, and the Carolina brand still goes a long way with kids."
And of Calipari, Goodman said: "He's at another level than everyone else. Seriously. It's now an upset if he doesn't get the top class in the country. Honestly, my 9-year-old daughter could work for Calipari as an assistant and still bring in elite talent. Calipari is that good in the recruiting game."
For comments on all 20 coaches, go to Goodman's story at http://es.pn/1bOFvP2
Townsend was named top recruiting assistant in the country earlier this week.
Turner to Late Night: Myles Turner, a 6-foot-11, 225-pound senior center from Trinity High in Euless, Texas, will visit KU for the Oct. 4 Late Night in the Phog, Turner told Jayhawkslant.com. He is ranked No. 6 nationally by Rivals.com. CBSsports.com's Jeff Borzello slots Turner at No. 2, behind KU target Jahlil Okafor of Chicago. Turner has a list of 26: KU, Arizona, Arkansas, Baylor, Connecticut, Duke, Georgetown, Indiana, Kansas State, Kentucky, Louisville, Marquette, Miami, North Carolina, N.C. State, Ohio State, Oklahoma, Oklahoma State, Oregon, SMU, Stanford, Texas, Texas A&M;, UT-Arlington, UCLA and UNLV.
Oubre to visit KU: No. 19-ranked Kelly Oubre, a 6-5 senior from Bush High in Richmond, Texas, tells Rivals.com he will visit KU for Late Night. His list of eight: KU, UConn, Florida, Georgetown, Kentucky, Louisville, Oregon and UNLV.
Early offer for Riley: Cody Riley, a 6-7 freshman from Sierra Canyon High in Chatsworth, Calif., has received scholarship offers from KU, Arizona and USC, Rivals.com reports. Riley is originally from Platte City, Mo.
More like this story on KUsports.com