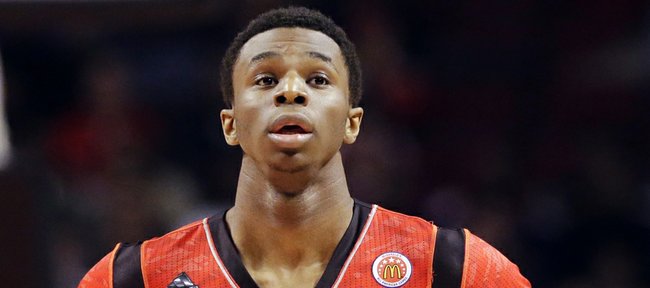 I have no idea whether former NBA guard Mitchell Wiggins has any coaching experience, but I sure would ask him if he has any interest in trying out the profession if I were one of the four schools recruiting his son, Andrew Wiggins.
Does Mitchell Wiggins have a personality that lends itself to recruiting elite high school basketball players, which involves communicating with parents, high school coaches and AAU coaches? Beats me.
Does he have any recruiting contacts? He has had regular contact with the most coveted high school basketball recruit since Greg Oden, and that would be good enough for me to pull the trigger on hiring him.
Package deals, even though nobody can admit they are package deals, have a tendency to work. Just look at the last two of Kansas University's three NCAA basketball tournament titles.
Ed Manning, Danny's late father, joined Larry Brown's staff at Kansas, and it worked splendidly for all parties involved. With Ed's son, Danny, leading the way, Kansas won a national title. Brown remains the only coach to win both an NBA and NCAA championship, so it worked for him. Danny won a national title at Kansas, was one of the greatest college basketball players of all time and was the No. 1 selection in the NBA Draft, so the arrangement clearly worked for him. Ed launched a coaching career that took him back to the NBA, where he had played for the Baltimore Bullets, Chicago Bulls and Portland Trail Blazers. Ed Manning was an assistant for Brown with the San Antonio Spurs and then became a scout for the organization. He made the most of the opportunity to coach at Kansas.
Twenty years later, Kansas won another national title, and Ronnie Chalmers was KU's director of basketball operations. The title restricts how much a DOP can do, so the elder Chalmers didn't get in the way too much. The arrangement worked for him. He drew a nice salary and had a great seat to all of his son's college games, including the one in which he made the three-pointer that sent the game into overtime dominated by Kansas in a national-title-game victory against Memphis. The arrangement worked for Kansas, which won a national title, and it worked for Mario Chalmers as well. He learned how to play with talented teammates at Kansas. That became useful for Chalmers, who started all 23 playoff games for the 2012 NBA champions, the Miami Heat, led by LeBron James, Dwyane Wade and Chris Bosh.
Know two things about most people who make a living in sports: 1. They're superstitious; 2. They either claim they're not superstitious or they keep their superstitions to themselves and downplay the importance of them.
How could any Kansas fan with a superstitious bone in his or her body not want Mitchell Wiggins to land a coaching job on Bill Self's staff, although the option of hiring him as a director of basketball operations no longer is an option because of an NCAA rule change. It's full-blown assistant or bust now. NCAA bylaw 11.4.2 doesn't word it exactly that way, but it amounts to that.
It's not as if Mitchell Wiggins doesn't know anything about basketball. In two seasons at Florida State, he averaged 23.2 points and 8.9 rebounds per game. He played six NBA seasons.
Mitchell Wiggins, along with Houston Rockets teammate Lewis Loyd, served a two-year suspension for testing positive for cocaine. Is that alone reason not to consider hiring him? That happened more than 26 years ago, so the answer is no.
Does Mitchell Wiggins have a gift for teaching basketball? Well, since his son is the No. 1 recruit in the nation, my guess would be yes.
I can't think of a single reason not to see at least if Mitchell Wiggins has any interest in not just watching his son play one year of college basketball but get paid to do so and have full access to him as a member of his college of choice's coaching staff.