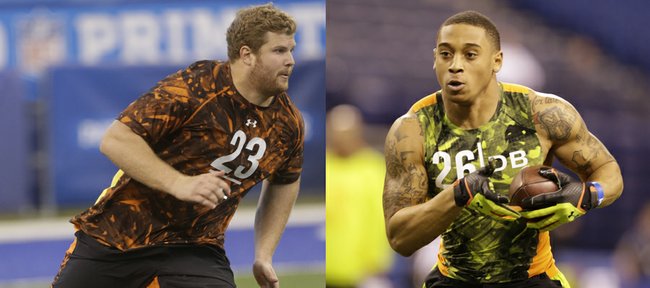 It has been three years since Kansas University produced an NFL Draft pick, but that streak could end today, thanks to the pre-draft efforts of former KU safety Bradley McDougald and offensive lineman Tanner Hawkinson.
Back in February, Hawkinson, a McPherson native, and McDougald, from Dublin, Ohio, participated in the annual NFL combine, a scouting showcase that includes athletes from around the nation who almost always go on to be drafted in April.
The Jayhawks put up decent numbers, and one veteran NFL scout who was consulted for this story said both players seemed like intriguing mid- to late-round options.
Hawkinson, a 6-foot-5, 298-pound tackle who is versatile enough to play all three positions on the offensive line, impressed scouts with his footwork, athleticism and intelligence. The one thing keeping Hawkinson from being a sure selection is his strength. During his two tries at the bench press in front of scouts — first at the combine in Indianapolis and again at KU's pro day in March — Hawkinson could not top 13 reps of 225 pounds.
Still, his showing in the agility drills and his size and game film lead many to believe Hawkinson could have a solid pro career. He's not as worried about where he's picked or even if he's picked as much as if he finds the right fit.
"Obviously, it would be nice to get drafted," he said. "But as long as I get an opportunity somewhere, I think I'll be in a good situation."
McDougald, whose combine showing neither hurt nor helped his position, saw his stock rise after shaving two-tenths of a second off of his 40-yard dash time during KU's pro day. McDougald ran a 4.7-second 40 in Indy but came in at 4.5 when he ran on the turf at Memorial Stadium. The extra speed, along with his size, physicality and ball skills from his days as a wide receiver have put the 6-foot, 210-pound safety in position to be appealing to several NFL clubs.
"I'm definitely expecting to hear my name called," McDougald said. "What day or what round, it doesn't matter what it is, really. I'd be fine with the last pick. I really don't care. I just want to go somewhere and prove that I deserve to be on a roster."
This year's draft, which started Thursday and concludes today, is merely the first step in following in the footsteps of 2010 draftees Dezmon Briscoe, Kerry Meier and Darrell Stuckey. Drafted or not, Hawkinson and McDougald will join several of their teammates hoping to land a roster spot through the draft or free agency.
Included among the most notable Jayhawks hoping to catch on with an NFL squad this weekend are: quarterback Dayne Crist; cornerback Greg Brown; defensive end/fullback Toben Opurum; defensive end Josh Williams; tight end Mike Ragone; offensive linemen Duane Zlatnik and Trevor Marrongelli; wide receivers Daymond Patterson, D.J. Beshears and Kale Pick; linebacker Tunde Bakare; and safety Lubbock Smith.