With a lot of plate discipline — and just a touch of pop — the Kansas University baseball team made the most of its six hits in a 7-1 victory over Baker on Wednesday night at Hoglund Ballpark.
"We got our walks," KU senior first baseman Alex DeLeon said, "and we took advantage of passed balls and wild pitches to get in scoring position."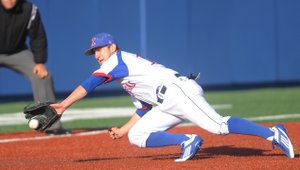 KU had plenty of baserunners even with the lack of solid contact.
The Jayhawks walked eight times — one off a season high — and also were plunked by four pitches.
The power, meanwhile, came at an opportune time from DeLeon in the fourth.
With runners on second and third and one out, the senior first baseman picked on a 1-0 pitch, blasting it into the top of the trees in left for a three-run homer that made it 6-1 KU.
"I was just looking for something up in the zone that I could get up into the outfield," said DeLeon, who has five of the Jayhawks' seven home runs this season. "I ended up getting a slider that was up, and I put a good swing on it."
KU coach Ritch Price was most disappointed Wednesday in his team's strikeout total. Facing a Baker pitching staff that didn't have the fastball velocity of Big 12 foes, the Jayhawks struck out nine times in their 29 official at-bats.
Four of the Jayhawks' hits came from two players: Shortstop Kevin Kuntz went 2-for-3 with an RBI, run and three stolen bases, while center fielder Tucker Tharp was 2-for-2 with two runs and an RBI.
Baker (6-34) equaled KU's six hits, but all of them were singles. The Wildcats mustered just two walks.
Interestingly, KU was outhit, 10-9, by Baker in a 2012 midweek game, but the Jayhawks also won that game, 7-3, with help from seven walks.
The Jayhawks (25-15) will start a three-game series at West Virginia on Friday.
Baker 100 000 000 — 1 6 3
Kansas 020 410 000 — 7 6 1
W — Drew Morovick, 3-2. L — Josh Vossen, 0-1.
2B — Tucker Tharp, KU. HR — Alex DeLeon, KU.
KU highlights — Alex DeLeon 1-for-2, HR, 3 RBIs, BB; Tucker Tharp 2-for-2, 2R, RBI, BB, 2 SB; Kevin Kuntz 2-for-3, R, RBI, 2 BB, 3 SB.
More like this story on KUsports.com