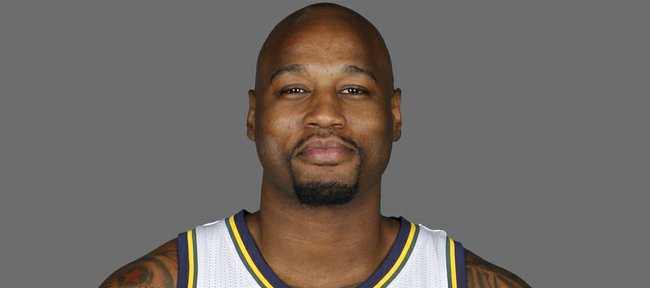 Three former Kansas University basketball players who did not play in any NBA games this past season did spend time in the NBA's minor league — the NBA Development League.
They are: Darnell Jackson, Reno (Nev.) Bighorns; Mario Little, Tulsa 66ers; and Brady Morningstar, who finished the season with the Canton (Ohio) Charge, after opening with the Tulsa 66ers.
• Jackson, a 6-foot-8, 240-pound power forward from Oklahoma City, started 11 games for Reno, before heading to China to play for the Xinjiang Flying Tigers. He returned to Reno for the squad's final eight regular-season games. Reno did not make the playoffs.
The 27-year-old Jackson averaged 13.8 points (off 50.7 percent shooting) and 6.7 rebounds while starting 12 of 19 contests. He had a season-high 30 points off 13-of-18 shooting against Canton in the final game of the regular season.
• Morningstar, a 6-4, 185-pound combo guard out of Lawrence's Free State High, averaged 4.3 points (off 34.2 percent shooting) and 1.3 assists in 16 games for Tulsa. He averaged 4.6 points (off 44.7 percent shooting) in 16 regular-season games for Canton.
Morningstar, 27, averaged 12.0 points in three playoff games. In Morningstar's last game of the season, a playoff loss to Tulsa, he erupted for 22 points off 6-of-10 three-point shooting.
• Little, a 6-6 shooting guard/small forward from Chicago, averaged 3.9 points (off 37.5 percent shooting) in 15 regular-season games for Tulsa.
The 25-year-old Little averaged 9.5 points off 61.5 percent shooting in the second round of the playoffs. He scored 14 points in his final game of the season — a playoff loss to Rio Grande Valley.
KU also had players who flip-flopped from the NBA to the D-League during this past season.
Combo guard Josh Selby, who was released by the NBA's Cleveland Cavaliers in March after being traded from Memphis in January, averaged 25.0 points and 5.0 assists a game in two playoff games for Maine. The 6-2, 180-pound Baltimore native, who is 22, averaged 17.0 points and 4.1 assists a game in 31 games total for three different D-League teams.
Rookie guard Tyshawn Taylor, who is in the NBA playoffs with the Brooklyn Nets, played eight games while on assignment with the Springfield (Mass.) Armor. Taylor averaged 24.6 points, 7.5 assists, 4.1 rebounds and 1.8 steals in those games.
Lacey leaves Bama: Former KU recruit Trevor Lacey has decided to transfer to a yet-to-be-determined school after two years at the University of Alabama, the school has announced. The 6-3 combo guard from Huntsville, Ala., averaged 11.3 points and 3.2 assists a game last season. He chose Alabama over Kentucky, Kansas and Auburn his senior year of high school.
The Birmingham News indicates coaches from KU, Arizona, Pittsburgh and Miami already have expressed interest. He's been granted permission to talk to all schools outside of the SEC.
"This definitely was not an easy decision to make," Lacey said. "It's been great at Alabama during my two years. It was tough my freshman year coming off (knee) surgery and having to work my way back. I wanted to improve during my sophomore season and I thought I did that. I want to thank the coaches and staff, my teammates and all the fans for their support."
This, that: Nino Jackson, a 6-2 guard from Ardmore, Okla., who expressed some interest in KU in high school before enrolling at Columbus (Ga.) Kingdom Prep School this year, has signed with Loyola Marymount. ... KU is expected to have an in-home visit this week with Elbert Robinson, a 6-10 junior from Lakeview Centennial High in Garland, Texas. He's ranked No. 66 in the Class of 2014.
Vaughn's first season over: San Antonio Spurs head coach Gregg Popovich spoke to the Orlando Sentinel about former KU guard Jacque Vaughn, who worked as a Spurs assistant two seasons prior to taking over as Orlando Magic head coach this season.
"He's done a great job of just instituting a system," Popovich said of Vaughn, who led the Magic to a 20-62 record in his debut season. "He knows what wins and what loses, and he knows that in the long run certain elements of the game have to be established and standards have to be set. That's really where he's put his emphasis.
They (Magic) have attention to detail," Popovich added of a team that is in a deep rebuilding mode. "They play hard and they compete. That's a lot more important than anything else, especially when you're starting up a program."
Prior to this year, Vaughn experienced no losing seasons in college and just two in 14 seasons in the NBA.
"I think it tests your inner strength," Vaughn told the Sentinel. "That's what it boils down to. I have to be a stalwart in my approach with the team in how I approach them every day, my resolve every day. If I'm asking them to be resilient, I need to be as well.
"That's my approach to every single day. Do I want to win? Yes. I'm a competitor. That's part of me. But do I know there's a process to getting to that winning area? Yes, there is, and I'm a part of the process.
"I think the great thing is I probably think differently than a lot of people, just my approach to life, my approach to what's gotten me here to this position," Vaughn added.
More like this story on KUsports.com