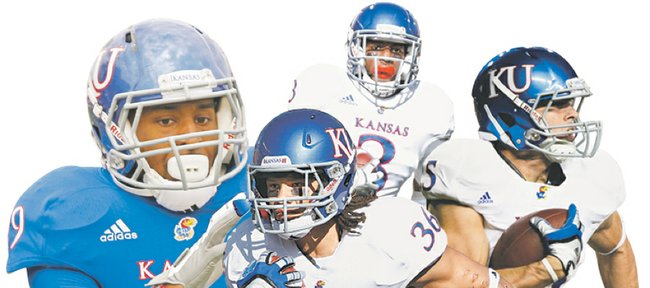 It's no secret that the Kansas University football program's strongest position heading into the 2013 season is running back.
From three-time leading rusher James Sims, now a senior, to dynamic speed back Tony Pierson and a trio of talented ball carriers behind them in Taylor Cox, Brandon Bourbon and newcomer Colin Spencer, head coach Charlie Weis' offense is loaded with options in the backfield.
All that talent and experience sparked competition, not complacency.
Reports from KU's spring practices indicated that in addition to being the most talented and proven position on the roster, KU's running backs also may have been the hardest-working bunch during the offseason.
Sims returns as KU's No. 1 guy but may have been pushed this offseason like never before.
Weis said Sims was in the best shape of his life heading into spring drills. There's a reason.
"Basically, it is because of the guys he is around," Weis said. "They are some of the hardest-working guys on the team."
Here's a quick look at the focus for each of KU's top four returning backs this offseason:
Sims eyes national success
James Sims led the Jayhawks in rushing during each of the past three seasons and increased his yardage totals each time.
For many college athletes, that alone would qualify as a solid career. But Sims wants more. And rather than just sitting around and expecting history to repeat itself one more time, Sims hit the weight room harder than ever this offseason.
"I have," he said. "I accomplished a good goal last year, and I just want to double that and get even better. So I'm doing extra cardio and working out twice as hard as I was before, just trying to finish up my last year strong and on a positive note as a team."
Sims always has been a modest man. He's never worried much about individual accomplishments and is the farthest thing from flashy. But in the interest of getting the Jayhawks' turnaround off to a good start before he says goodbye, Sims has made things personal.
"I want to be the best back in the Big 12, I want to be top five in the nation, and I know that's a big goal," he said. "I know it's gonna take a lot of hard work, but those two things are my main goals. That, and helping us win, of course."
Sims is well on his way to achieving the first one. Last season, despite playing in just nine games, his 1,013 rushing yards ranked second in the Big 12. He led the conference with 112.6 yards per game.
With the Jayhawks' offense expected to be more balanced this season — KU ran the ball 558 times last season and threw it just 313 — Sims' number of carries might dip. The flip side of that, however, suggests that if the KU passing game is more of a threat, Sims might have more room to rumble when he does touch the ball.
All of Sims' personal goals were created with the idea of making Kansas a winner once again.
"Any team who finishes the way we finished, you have no choice but to get better," he said. "Last year it was more of the talk, but now we have to really go out and prove that we're better, and it's not the same team.
"Everyone has the dream of going to the next level or doing this or doing that, so of course everybody's gonna come in and do all they can every day in practice to help the team out and benefit everything in the end."
— Matt Tait
Pierson bulks up
You'll have to excuse Tony Pierson for smiling a little bigger when you bring up his weight. See, adding to his already-slight frame this offseason was one of the tailback's biggest goals, and when he reported for spring practice in early March and weighed in for the first time, the junior-to-be from East St. Louis, Ill., was elated about what he saw on the scale.
Pierson had added weight.
"A pound or two," he said with the pride of a straight-A student.

Not known for wild celebrations on the field, that's about as demonstrative as Pierson gets. He did, however, have no problem discussing how he was able to bulk up.
"Weight room. All the time," he said. "It's very hard for me to add weight. I eat in the morning, eat after a workout and eat before I go to bed. The strength coaches are always on me about eating, so I just do whatever the coaches want me to do and keep working at it."
Pierson said he hopped on the scale just about every day during the offseason to check his progress. Most days he was disappointed. But when the extra weight finally showed up, that all changed.
"That was exciting, man," he said.
Pierson, who now 5-foot-10 1/2, 172 pounds, said his dream playing weight would be 185-190.

"I'm hoping I can get there," he said. "I'm gonna keep on lifting and keep on eating until I do."
— Matt Tait
Bourbon patiently waiting
He stands 6-foot-11⁄2, weighs 225 pounds and has a great deal of speed for a running back his size. So why hasn't that translated into a heavy load of carries and big yardage for Brandon Bourbon, who will be entering his red-shirt junior season? He thinks watching film with coaches has helped him to identify one big reason.
"In certain situations, I'm trying to make a cut on somebody when I need to just get up the field," Bourbon said. "I'm trying change my mind-set. The fact that I'm (225) and as fast as I am, I need to make people tackle me. It's a lot easier for people to make a tackle on my side when I'm trying to miss than it is if I'm going straight ahead and they're turning and I'm already going full speed."
That sort of exchange between Bourbon and his coaches sounded so much like a pitching coach letting a young talent know he's doing the hitter a favor by throwing him offspeed stuff instead of challenging him with a fastball the hitter has trouble getting around on. Bourbon's big and fast and needs to trust his stuff. He knows that now. Recognizing a flaw is the first step toward solving it.
In 2011, Bourbon rushed 28 times for 190 yards (6.8 per carry). His 51-yard touchdown run was the highlight of his 101-yard day on 10 carries against Texas Tech.
He also caught three passes for 23 yards.
Last season, he rushed 12 times for 41 yards (3.4) and caught eight passes for 56 yards. He knows on a team with a trio of terrific running backs in James Sims, Tony Pierson and Taylor Cox, he'll need to produce more consistently to get his shot.
— Tom Keegan
Cox content to share
Taylor Cox's last season in Lawrence arrived quickly.
It has been less than a year since Cox, a junior-college transfer from College of the Siskiyous, first arrived on campus with the idea of making a name for himself at the Div. I level and, in that time, he has seen two running backs already on the roster blossom into two of the best in the Big 12.
Watching James Sims and Tony Pierson take off could have been a blow to Cox's psyche, but he stayed humble, worked harder and found a place for himself on this team.
"I look at Taylor like a humble, mad man on the field," Pierson said. "He always waits his turn, no matter what. He always brings confidence and a team-first attitude. He's well respected on the team for his work on and off the field."
Cox says he never lets what others have done in front of him change the way he approaches the game. He came to Kansas to play football. He got that chance. And he's enjoying it.
"Since I've been here, I've always done my best to compete and do the best I can," Cox said "And going into my senior year, that's definitely not going to change."
Cox said he felt that his experience and determination had inspired his teammates.
"I just try to lead by example and go hard all the time," he said. "I'm not gonna give a rah-rah speech at the beginning. I'm just gonna try to do my job the best of my ability and compete always and do whatever the team asks. So in that respect I believe I'm a leader."
Pierson said having Cox on the roster takes the burden off of every running back on the team.
"He's probably in between us," said Pierson comparing Cox to him and Sims. "He's faster than James, and he's stronger than me. He's a versatile guy."
— Matt Tait