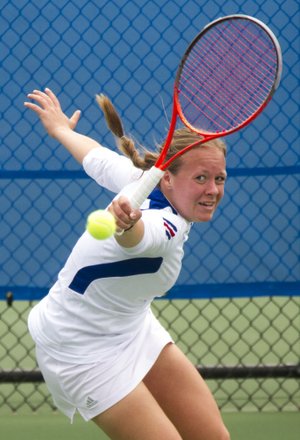 Kansas University won the doubles point and Nos. 2-4 singles to claim a 4-3 Big 12 tennis victory over Iowa State on the Jayhawks' Senior Day on Sunday at Jayhawk Tennis Center.
Maria Belen Ludueña and Paulina Los won at No. 1 doubles and Victoria Khanevskaya-Anastasija Trubica at No. 3 to claim the doubles point, then Maria Jose Cardona, Los and Dylan Windom won in singles for KU (10-9, 2-7).
"It feels amazing," senior Khanevskaya said. "When we won the doubles point, I was really impressed with how everyone competed. I was playing my (singles) match, and when I realized we won the whole match I got so happy because I knew it was my Senior Day. Inside, I really wanted to beat Iowa State because we lost to them last year, and I wanted to battle back."
Coming off consecutive Big 12 victories, the Jayhawks will meet ISU in the first round of the Big 12 Championships, which begin Thursday in Norman, Okla.
"Coming off a big win against West Virginia, we definitely had a lot of intensity and it showed in doubles," KU coach Amy Hall-Holt said. "I was really proud of how everybody stepped in and competed hard today. It's what we needed to get these wins this weekend."
Kansas 4, Iowa State 3
Doubles
No. 1: Maria Belen Ludueña-Paulina Los (KU) def. Ksenia Pronina-Jenna Langhorst (ISU), 8-4
No. 2: Simona Cacciutolo-Meghan Cassens (ISU) def. Dylan Windom-Maria Jose Cardona (KU), 8-7 (5)
No. 3: Victoria Khanevskaya-Anastasija Trubica (KU) def. Emma Waites-Caroline Andersen (ISU), 8-1
Singles
No. 1: Cacciuttolo (ISU) def. Ludueña (KU), 6-1, ret. (injury)
No. 2: Cardona (KU) def. Pronina (ISU), 6-2, 7-5
No. 3: Los (KU) def. Cassens (ISU), 6-4, 6-1
No. 4: Windom (KU) def. Langhorst (ISU), 2-2, ret. (injury)
No. 5: Ana Gasparovic (ISU) def. Trubica (KU), 6-4, 6-1
No. 6: Waites (ISU) def. Khanevskaya (KU), 3-6, 6-1, 6-4
More like this story on KUsports.com