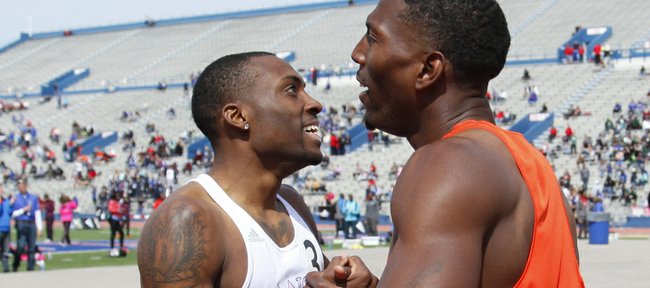 A criminal justice major from Jackson State University proved a perfect foil to Bershawn "Batman" Jackson in the invitational 400 hurdles Saturday at the Kansas Relays.
Michael Tinsley, a 2006 JSU graduate who placed second in the hurdles in the 2012 London Olympics, earned Kansas Relays Most Outstanding Male Performer honors by winning his specialty event in 48.77 seconds, the No. 1 time in the world during the 2013 outdoor track season.
Seven-time Kansas Relays hurdles winner Jackson, who bettered his own Relays record a year ago, finished fifth in 51.22, far behind up-and-coming Kansas University sophomore Michael Stigler, who was second in 49.42.
"Today I was a bit rusty. The wind (in Memorial Stadium) threw me off a little bit. Overall I'm pleased with my shape and form. I'll get it back next race," said the 29-year-old Jackson, bronze medalist in the 2008 Olympics who did not qualify for the 2012 Games.
Tinsley, 28 from Little Rock, Ark., was competing in his first Kansas Relays.
"This means my training is going in the right direction," Tinsley said. "I know Bershawn Jackson has won here a couple times. He's a great competitor. We've got a good, friendly rivalry going."
Tinsley was unstoppable down the backstretch.
"I used the wind to my advantage. I wanted to stay relaxed and comfortable. I was able to come home strong," Tinsley said. "I knew the kid from KU was coming. I wanted to stay relaxed and keep pumping through."
Stigler, 5-foot-10 from Canyon, Texas, who had a strong kick on Saturday, did not enter as a complete unknown to Tinsley and Jackson. The Jayhawk standout placed seventh in the 400 hurdles at the 2012 Olympic Trials.
"Him having that kind of performance lets me know he's on his way to doing great things," Tinsley said of Stigler, whose time ranks as No. 1 in the NCAA during the 2013 outdoor season and fifth-fastest in the world this year. "He got a personal best today (and bettered his own KU record) which is also great," Tinsley added.
Stigler was not awed by the Relays 400 hurdles field.
"It's a first," he said of his beating "Batman." "I always looked up to him. I told him that before we started. It was great to race against him again. It felt like the USA Trials all over again from last year. It was good to have that competition before the Big 12."
Free State High's Alexa Harmon-Thomas, who won three events, was named Women's Most Outstanding Performer.
Clemons wins 400: KU senior Kyle Clemons won the invitational 400 dash in 46.28. Former Indiana University runner Kind Butler was second in 46.61. Clemons had won the collegiate 400 the past two years at the Relays.
"This being my last year, it's amazing, especially with all these great competitors and Olympians. It's an unbelievable way to go out," said Clemons, who has goals of being a first-team All-American after being second-team two straight years.
Ryun's record safe: Former Ohio State runner Cory Leslie won the mile in 3:58.18. Olympic silver medalist Leo Manzano was second in 4:00.13. The runners were hoping to top Jim Ryun's record clocking of 3:54.07 set in 1967.
"The weather didn't cooperate as much as it would have needed to make a run at it (Ryun's record)," Leslie said of a windy day with temperatures in the 60s. "I'm pleased. I wanted to get out here and compete. It was such a great field I didn't want to come out and be mentally beat. I wanted to give myself a chance, get out with the leaders and see what happened."
Open pole vault: Former Notre Dame standout Mary Saxer won the women's invitational pole vault with a mark of 14-9. Olympic gold medalist Jenn Suhr was a no-show.
Relay success: KU won the men's and women's 1600 relay races. The men (DeMario Johnson, Michael Hester, Stigler, Clemons) were timed in 3:07.78; the women (Denesha Morris, Diamond Dixon, Taylor Washington, Paris Daniels) in 3:32.94. ... KU's women (Daniels, Sydney Conley, Tianna Valentine, Dixon) won the 400 relay in 45.02. ... KU's men (Dalen Fink, Nick Seckfort, Ben Brownlee, Dominque Manley) won the 4x880 relay in 7:44.08.
Paris perfect: KU's Daniels won the 100 in 11.55. KU's Valentine and Andrea Geubelle were third (11.8) and sixth (12.25) respectively.
"It wasn't as fast as I wanted it to be," said Daniels, a senior from St. Louis. "But I'm happy and satisfied; I'm a KU Relays champion."
More Jayhawks: KU's Francine Simpson won the long jump in 21-5 1/4. Sydney Conley was second at 19-10 3/4. Jessica Maroszek was second in the discus at 174-4. Denesha Morris was second in the 400 at 54.18. Jamie House was second in the collegiate pole vault at 12-2 1/2. ... Nick Giancana and Jonathan Fuller each cleared the winning height of 6-11 1/2 in the high jump, but because of misses at previous bars, the duo placed third and fourth, respectively. Giancana's clearance was a personal best.
This, that: A crowd that the media estimated about 5,000 attended Saturday's marquee events at the 86th annual Relays. The meet is expected to be held in KU's new track facility next season.