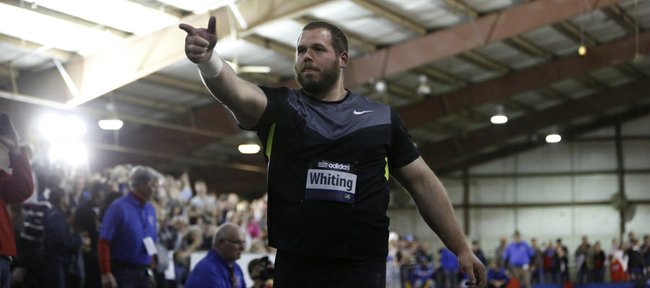 Ryan Whiting, a 2012 Olympian and indoor world shot-put champion who won five NCAA shot titles and one discus championship at Arizona State University, defeated an elite field on his final throw at the 86th-annual Kansas Relays on Wednesday night inside Douglas County Fairgrounds' Community Arena.
Photo Gallery
Elite Men's Shot Put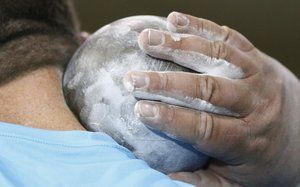 Images from Wednesday night's Elite Men's Shot Put event at the Douglas County Fairgrounds.
Whiting's sixth toss measured 71 feet, 0.5 inches and passed fellow 2012 Olympian and defending Relays champ Reese Hoffa, who had uncorked 70-101⁄2 on the fourth of his six throws.
"It feels great. I don't get to do that to him much. He does that to me a lot," said the 26-year-old Whiting, who hails from Harrisburg, Pa. "Turn the tables on him, see how he likes it," Whiting added with a laugh.
Canadian Justin Rodhe placed third at 69-31⁄2.
"I just got in there and focused on one thing, and it went," Whiting said of the final throw, which soared right down the middle of the throwing area. "I was just trying to stay loose (in ring). You get that adrenaline in your system, you tighten up. With the shot, you have to let yourself become a sling shot."
Hoffa, 35, was unable to surpass Whiting on the final throw of the event, held at the fairgrounds instead of downtown Lawrence because of rain.
"Even though I lost, it was a great distance," Hoffa said. "I look forward to competing against Ryan again in Des Moines (at Drake Relays). Obviously, the U.S. is looking good in the shot put."
Hoffa was able to defeat KU senior basketball player Kevin Young in the celebrity Rubik's Cube-solving competition. Hoffa, who has completed the Cube in a personal-best 38 seconds, needed a minute, 25 seconds to solve the Cube.
"Once I saw his cube, I knew I wasn't in any trouble. If he had a Chinese or well-lubed Rubik's Cube, I knew I'd be in trouble," Hoffa said. "I take it seriously. Mine is a competition cube. The cube he has is 9 bucks; this is a $26 cube."
Young said he had a lot of fun competing before a crowd that KU officials estimated at about 1,000.
"When he pulled his cube out of a case, I was, 'Oh,'" Young said with a smile.
"I got a new cube and a shirt for this," added Young, who bought a Rubik's Cube hooded sweatshirt and T-shirt for the event. "It's impressive on his part. He's legit."
John Cord of Simpson College of Iowa scored 3,339 points on the opening day of the Relays decathlon and enters today leading Wisconsin-Milwaukee's Dan Simon by 11 points. Michigan's Erin Busbee collected 3,010 points in the heptathlon and leads the field by 93 points.
The Relays will return to the fairgrounds tonight for the 6 p.m. women's long jump.