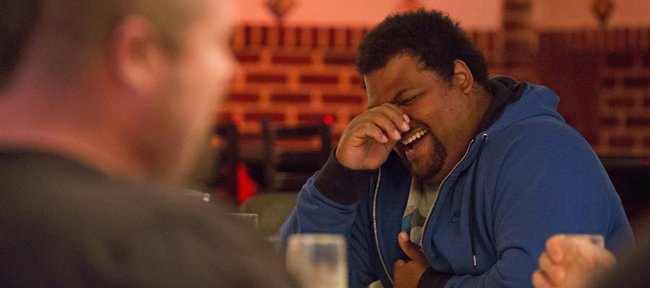 Reese Hoffa, bronze-medal winner at the 2012 Olympics, realizes he could go from being the fan favorite in tonight's Kansas Relays shot put competition to the villain in a hurry.
The 5-foot-11, 320-pound, 35-year-old defending Relays champion from Augusta, Ga., will first compete against fellow London Olympians Christian Cantwell and Ryan Whiting in the shot put at 6 p.m. in the livestock arena of the Douglas County Fairgrounds (2110 Harper Street).
At the conclusion of the event, the personable speedcubist, who celebrates victories by eating turkey legs provided to him by adoring fans, will meet Kansas University senior basketball forward Kevin Young in a Rubik's Cube-solving competition.
Young, who revealed his hobby to the media during the recent NCAA Tournament, has solved the Cube in just under 2 minutes; Hoffa has a personal-best time of 38 seconds.
"If they boo me, I understand why. Kansas basketball is very big. I just hope he doesn't crush me with his time," Hoffa said Tuesday before dining with his fellow shot competitors at the Eldridge Hotel. "I've been practicing a little bit over the last couple days since my manager told me about it. Hopefully I'll have won (the shot) but if I haven't hopefully it'll be another victory (in the Cube).
"I'm a very competitive person. I want to win everything I do, even if it's solving Rubik's Cube, Tic-Tac-Toe ... I just want to have fun with it."
Hoffa, who won last year's Kansas Relays shot put competition with a throw of 71-3 3/4, hopes fans flock to the fairgrounds tonight. The competition has been moved from downtown Lawrence to the indoor facility because of expected rain and cold temperatures.
"I'm glad the organizers at the Kansas Relays are saying, 'Hey, let's not put these guys at risk,'" Hoffa said of a field that also includes standouts Cory Martin, Kurt Roberts, Joe Kovacs of the U.S., plus Canada's Justin Rodhe and Croatia's Nedzad Mulabegovic.
"We are trying to throw 70-feet. There's a lot of force that has to be put behind the ball to do that. One misstep could blow something potentially out. I'm glad we're doing it in a safe environment. I think having it in a fairground in a barn will add a special touch to this entire shot put competition," Hoffa added.
Fierce competitor Hoffa, who hasn't decided yet whether he'll try for the 2016 Olympics, jokes that he won't be out of place at the fairgrounds. He's been viewed as a wild animal before.
"I think the bear is one of the animals people like to compare me to," he said, smiling.
About Hoffa: Here's USA Track and Field's current bio on Hoffa.
"Reese Hoffa may have had his best year yet in 2012 by winning bronze in London and winning the 2012 Diamond League title. A pillar of consistency, Hoffa has finished in the top five at the USA Outdoor Championships for eight consecutive years. You have to go all the way back to 2003 to find a time when Hoffa didn't own one of the top ten throws in the world in either indoor or outdoor competition. At the 2009 World Outdoor Championships, five of the six throws Hoffa took would have won him the gold medal. In 2007 alone, he topped the 70-foot-mark a total of 10 times. He broke C.J. Hunter's mark in establishing a new Pan American Games record in the shot put in 2003. A huge professional wrestling fan, Hoffa competed while wearing a mask at the 2004 Home Depot Invitational, dubbing himself the "Unknown Shot Putter." Earned All-American honors four straight years competing for the University of Georgia. Hoffa also competed in football, baseball and wrestling in high school. He says his dream is to compete in a bear suit, being brought onto the track in a cage. He married Renata Hoffa on November 26, 2005."
More like this story on KUsports.com