The bulls of the Kansas Relays must eat the night before the big event and meet director Milan Donley wasn't going to be caught short this time.
"We ordered enough food for 35 people last year and ran out," Donley said. "And there were only 11 throwers, plus six other people."
That's what you get for hanging out with shot putters, who had plenty of pasta on hand Tuesday night in the Eldridge Hotel's Big 12 room.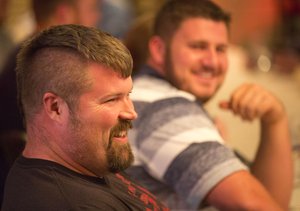 The bulls will do their thing in the livestock arena of the Douglas County Fairgrounds (2110 Harper Street), indoors and will return downtown in future years, weather permitting.
Lawrence is a favorite stop for the behemoths of the track and field world in part because of how much they enjoyed the downtown venue the past two years.
"(For the crowd), there is something about watching the shot put from 8 feet away that's a lot different from watching it from 200 feet away when we're way out in the infield," said Justin Rodhe, last year's third-place finisher. "You get the chalk on your face and you can feel the shot hit the ground. It's a lot different event when you're that close."
If it can't be downtown it might as well be at the County Fairgrounds, as far as Rodhe's concerned. He spent his pre-teen years on a dairy farm outside Toledo, Ohio, so he had no complaints about the backup plan.
"OK, that's no problem," Rodhe said. "I've been in show barns lots of times."
My mother grew up on a farm outside Syracuse, N.Y., so I should have been ashamed to ask, but I'm never ashamed of ignorance because letting yourself be shamed into silence is the best way to remain ignorant, so I asked: What's a show barn?
"You just put a halter on a cow and lead them around," Rodhe said of his experience. "You put them in a lot of different positions and they judge the quality of the animal."
Sort of like a dog show?
"Well, it's a lot more strenuous for the shower," he said, "especially if you're a 9-year-old kid showing a cow with a 100-pound head and you've got to hold his head up the whole time."
No wonder he developed such strength. Rodhe trains in Kamloops, British Columbia, Canada, and travels the world competing.
"One of the most fun meets I've done, this one here," Rodhe said of the Kansas Relays. "I really, really like it. From the meet perspective, the organizers, they really care about how they put it on, care about doing it well and taking care of the athletes, making it a local community thing. People show a lot of pride here. You don't get that in a lot of other places."
The success of the Lawrence downtown shot put, the brain child of Donley, has led to the beginning stages of televising the shot-put circuit.
Retired competitor Adam Nelson — he was the guy who would tear his shirt off, igniting the crowd the past two years — will handle color analyst duties for a Metro Sports telecast of the event and ESPN3 will stream the competition. Nelson's a Dartmouth man. (That's how you're supposed to word it for Ivy League graduates, right?)
Watching the event will require driving out near 19th and Harper St. in Lawrence, more of a chore than walking a few blocks from the office, but for the sake of the fun-loving competitors it would be nice to see people make the effort to seek out the free show that starts at 6 p.m. The venue won't be as cool, but the competitors will be just as friendly.
From the time Ned Mulabegovic's flight in Croatia departed to the time his final flight landed in St. Louis (where he stayed with Christian Cantwell before they drove to Lawrence), 25 hours had elapsed. If he can fly 25 hours to compete, is it too much to ask to drive 25 blocks to watch him?
Cantwell is back a year after getting booed passionately for the crime of attending the University of Missouri. He's a good sport about it. Besides, he said, he once witnessed far worse treatment of a fellow competitor from an enemy crowd.
Years ago in a big-money meet in Russia with very few events and very few competitors in each event, Cantwell remembered, he, Dan Taylor and two Russian throwers made up the entire field in the shot put.
Recounted Cantwell: "Dan goes to throw and this Russian, in perfect English, better than Adam could enunciate, hollers, '(Expletive deleted) you, Dan Taylor!' Dan says, 'Did you hear that?' Did I hear that? I was laughing so hard I was crying."
It seems as if these guys always are in a great mood.
"Just one big group of clowns until you start throwing and they all become sharks," Rodhe said.
They'll have a good time throwing, but they'll have a better time if people show up to watch them.