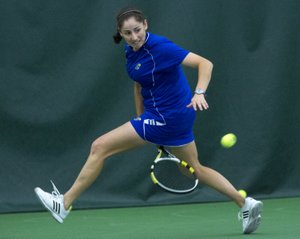 Dylan Windom claimed Kansas University's only point-scoring victory in a 6-1 tennis loss to No. 15-ranked Texas Tech on Sunday at Jayhawk Tennis Center.
Windom beat Elizabeth Ullathorne at No. 4 singles.
KU's Anastasija Trubica and Victoria Khanevskaya beat Ullathorne and Caroline Starck, 8-6, at No. 3 doubles, but the Red Raiders claimed the doubles point.
Tech (17-4 overall, 7-0 Big 12) leads the league, while KU (8-9, 0-7) hasn't won a conference dual since April 10, 2011.
The Jayhawks will host West Virginia at 2 p.m. Friday and Iowa State at noon Sunday.
Texas Tech 6, Kansas 1
Doubles
No. 1: Samantha Adams-Kenna Kilgo (TTU) def. Maria Belen Ludueña-Paulina Los (KU), 8-6
No. 2: Rashmi Teltumbde-Nikki Sanders (TTU) def. Dylan Windom-Maria Jose Cardona (KU), 8-6
No. 3: Anastasija Trubica-Victoria Khanevskaya (KU) def. Elizabeth Ullathorne-Caroline Starck (TTU), 8-6
Singles
No. 1: Adams (TTU) def. Ludueña (KU), 3-6, 6-3, 1-0 (11-9)
No. 2: Kilgo (TTU) def. Cardona (KU), 6-3, 6-2
No. 3: Teltumbde (TTU) def. Los (KU), 6-3, 6-4
No. 4: Windom (KU) def. Ullathorne (TTU), 1-6, 6-3, 6-1
No. 5: Sanders (TTU) def. Trubica (KU), 6-0, 6-0
No. 6: Starck (TTU) def. Khanevskaya (KU), 6-1, 6-1
More like this story on KUsports.com