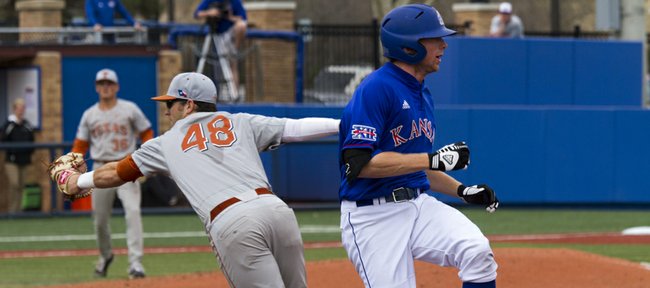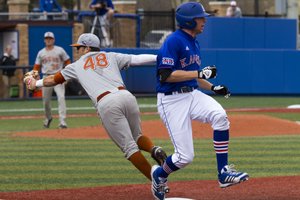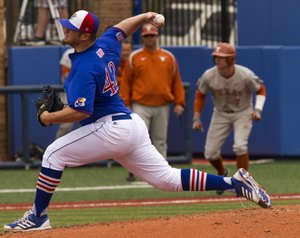 More than anything, Kansas University baseball coach Ritch Price was proud of his team's fight following the Jayhawks' 4-3 victory over Texas on Sunday at Hoglund Ballpark.
"That's the most intense I've ever seen Texas play. They're trying to salvage their season," Price said. "And we have some toughness in our dugout. Our guys aren't going to back down."
That was most evident in the top of the seventh inning, when the game started to get heated.
After jawing between players on both teams, home-plate umpire Mark Wagers officially warned both dugouts to try to keep things under control.
As if on cue, Texas' Ty Marlow lined a single into right field, and the Longhorns tried to score Erich Weiss from second base.
KU right fielder Dakota Smith fired a throw to catcher Ka'iana Eldredge, who had to wait a couple of seconds before putting the tag on Weiss.
Though the NCAA requires players to slide at the plate, Weiss didn't — though he did pull up enough to graze Eldredge instead of giving him a more direct hit.
Eldredge still took offense, and he followed Weiss a few steps before the two were separated. A few other players who started to leave their dugouts were restrained as well.
Just as everything appeared to calm down, KU pitching coach Ryan Graves was ejected after exiting the dugout to say a few words to the umpires.
"He kind of riled our dugout up and got us going," KU reliever Jordan Piché said of Graves. "We took it (as) momentum, and we took it pretty far."
KU wouldn't relinquish its 4-3 lead, with most of the credit going to Piché.
In the eighth inning, he inherited runners on first and second with one out before retiring Texas' Weston Hall on a flyout and Madison Carter on a fielder's choice.
Weiss led off the top of the ninth with a single, but after a sacrifice bunt, Piché was able to get flyouts from C.J. Hinojosa and Marlow to end the game.
"It was nerve-wracking," Piché said, "but I controlled it well."
KU claimed its first series win against Texas since 2009. The Jayhawks have won their last two Big 12 series and three of four total.
"The clubhouse is excited. We've got a lot of guys in there having a good time," KU center fielder Tucker Tharp said. "We're just rolling. We just want to keep the ball going."
Tharp scored the game-deciding run in the bottom of the sixth with help from two Texas errors. After Tharp reached on an error, he moved to third when catcher Jacob Felts wildly threw Justin Protacio's sacrifice bunt attempt into center field.
Kevin Kuntz followed with an RBI groundout to make it 4-3.
Frank Duncan, who was just shuffled out of the weekend starting rotation this week, picked up the win in relief. The right-hander allowed no runs in 21⁄3 innings, surrendering four hits and one walk with no strikeouts.
KU's relievers combined for five shutout innings, but they didn't make it look easy. The Jayhawks' pitchers combined for seven walks and just one strikeout. UT left 12 men on base.
KU was helped by a strong wind that roared in from center; many hard-hit balls by Texas (19-15, 4-8 Big 12) failed even to reach the warning track because of the conditions.
KU (22-13, 7-5) sits alone in fourth place in the Big 12 standings.
The Jayhawks will play at Creighton at 6:30 p.m. Tuesday. Because of NCAA rules, Graves also will have to sit out that game after being ejected Sunday.
Texas 100 020 000 — 3 10 3
Kansas 001 201 00X — 4 8 0
W — Frank Duncan, 3-4. L — Nathan Thornhill, 2-4. SV — Jordan Piché (8).
2B — Madison Carter, UT; Tucker Tharp, KU.
KU highlights — Tucker Tharp 1-for-4, 2R; Kevin Kuntz 1-for-3, 2 RBIs; Justin Protacio 1-for-5, R, RBI; Michael Suiter 1-for-4, RBI.