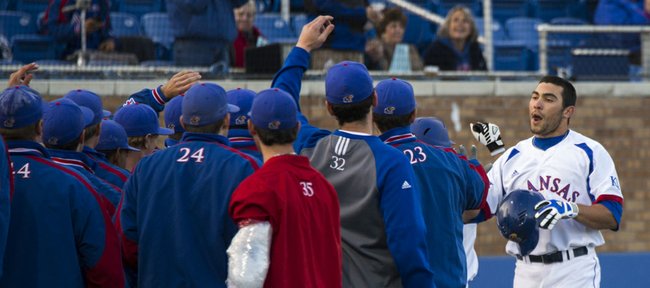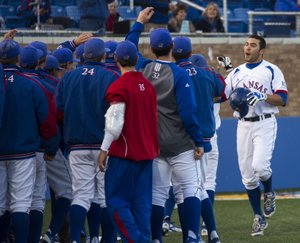 Throughout most of his Kansas University baseball career, junior Tucker Tharp's proudest moment had been a clutch hit that came against Texas Tech during his freshman year in a game the Jayhawks wound up losing.
That all changed Friday, when Tharp singled to right field with two outs in the bottom of the 12th inning to give Kansas a 7-6 victory against Texas at Hoglund Ballpark.
The single, which wiped out any memories of Tharp's rough 1-for-5 night, scored Dakota Smith, who singled sharply to start the game-winning rally and moved the Jayhawks to 21-12 overall and 6-4 in Big 12 play.
"I had been struggling," Tharp said. "I don't know how many Ks I had; it felt like 20. I was just glad I got another chance to come through for the guys."
While both teams played the extra portion of Friday's game without flaw, the first nine innings were littered with miscues. KU, which rallied from an early 5-2 deficit with a three-run fifth inning that featured a monster home run, took a 6-5 lead in the bottom of the seventh, when UT catcher Jacob Felts misplayed a pop-up that allowed KU second baseman Justin Protacio to race home with two outs.
In the next inning, KU gave the run back when reliever Frank Duncan also misplayed a pop-up that put a runner on second. One batter later, the Longhorns tied the game when Felts, of all people, singled off of KU closer Jordan Piché.
At that point, KU coach Ritch Price said the game was Piché's to win or lose, and the closer whom Price has gushed about all season was up to the task. He tossed 41⁄3 innings, surrendering three hits and no runs while walking one and striking out three.
"He's a man," Tharp said.
Piché (5-1) said the key to his late-inning success was focusing on one pitch at a time.
"I just battled inning by inning," he said. "I didn't know how long I was gonna go, but the whole team kept battling behind me, and this was a great team win. It was a lot of fun."
The victory kept KU's hot streak alive against some of the Big 12's best. After taking two of three from TCU and salvaging one win in a road series at Oklahoma, the Jayhawks won a weekend series against Oklahoma State last week and now are set up for success against the Longhorns.
"It's always important to win on Friday," Tharp said. "It gets you off of the right foot and gives you a chance to sweep the series."
Texas 013 001 010 000 — 6 12 3
Kansas 002 030 100 001 — 7 11 1
W – Jordan Piché, 5-1. L – Ty Marlow, 1-2.
2B: Mark Payton, UT; C.J. Hinojosa, UT; Justin Protacio, KU. HR: Ben Johnson, UT; Ty Marlow, UT; Alex DeLeon, KU.
KU Highlights: Taylor 6 IP, 9 H, 5 ER, 6 Ks; Piché 4.1 IP 3 H, 0 ER, 3 Ks; Frank Duncan 1.2 IP, 0 H, 0 ER, 1 K; Justin Protacio 1-for-3, 3 R; Alex DeLeon 2-for-5, HR, 2 RBI, 1 R; Tucker Tharp 1-for-5, RBI; Justin Protacio 1-for-4, R; Kevin Kuntz 3-for-3, 1 R; Michael Suiter 2-for-5, 2 RBI, 1 R; Tommy Mirabelli 1-for-1.
More like this story on KUsports.com