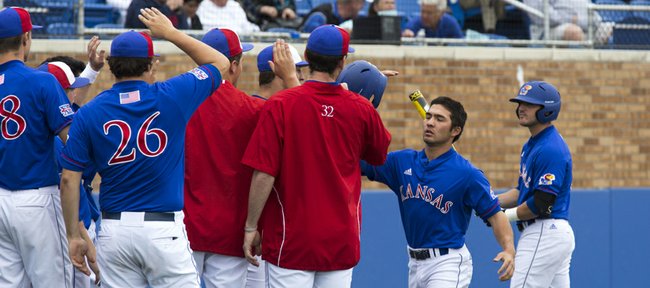 Photo Gallery
Kansas baseball v. Oklahoma State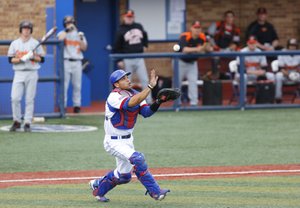 Images from Friday's game against Oklahoma State at Hoglund Ballpark.
For most baseball teams, a one-run lead in the late innings can be a nerve-wracking and pressure-packed experience.
Luckily for Kansas University's baseball team, closer Jordan Piché prefers those moments.
"I like the one-run-lead games," said Piché, who threw three scoreless innings to close out KU's 3-2 victory against No. 19 Oklahoma State on Sunday at Hoglund Ballpark. "More pressure on you. I don't know, just something about it I like. It's just fun to compete in that."
Piché picked up his sixth save of the season by scattering three hits over three innings and facing just 11 Oklahoma State hitters. He was never in trouble, cruised from the seventh inning on and never gave the Cowboys so much as a glimmer of hope.
"The first inning was a quick one, and I kind of fed off that," Piché said. "In the ninth, I just told myself, 'It stops here.' That ninth inning is a crucial one to get ahead in the count and get the leadoff."
Piché did just that with all four batters he faced in the ninth and actually had to work overtime after OSU's Gage Green reached on an infield single with two outs. Many in KU's dugout thought the throw from shortstop Kevin Kuntz was in time to end the game, but the umpire called Green safe. Piché was unfazed.
"It pumped me up a little more," the junior closer said. "Next batter, we got him, so no big deal."
After winning the opener Friday, 7-5, and falling, 14-3, in Game 2 of the series Saturday, the Jayhawks found themselves trailing quickly when Oklahoma State plated a run in the top of the first. Rather than seeing that as a continuation of Saturday's OSU dominance, the Jayhawks bounced back with two runs in the bottom of the first and controlled things the rest of the way.
KU capitalized on two Oklahoma State errors in the first inning and also used three well placed bunts to pick up their two runs. For a team that lacks pop, KU coach Ritch Price said playing small ball was vital to KU's success.
"We have to with our lineup," Price said. "That's what I was most proud of, how we bounced back."
Sophomore Dakota Smith (groundout in the first) and junior Tucker Tharp picked up KU's only RBIs of the day, both via timely situational hitting.
"When you execute the short game, it's pretty fun to watch it unfold," Tharp said. "When you get something going with bunts, it's a lot of fun."
Sophomore lefty Wes Benjamin (3-3) picked up the win. Benjamin went six innings and gave up just four hits and two runs while striking out three and walking five. Like his teammates at the plate, Benjamin made timely pitches from the mound.
"When you have as poor a performance as we had (Saturday) in every phase of the game, (the next game) starts with your starting pitcher," Price said. "Despite the five walks, I thought he grinded it away, and, obviously, the double plays were huge. Our middle infield played fabulous today."
KU's series victory over Oklahoma State (22-8 overall, 4-4 Big 12) marked the first time since taking two of three from Baylor in 2011 that the Jayhawks (18-12, 5-4) had won a series against a ranked opponent.
The Jayhawks will play at Iowa on Tuesday and Wednesday before returning home for a weekend series with Texas. Price said he felt great about what his club had done so far in Big 12 play, starting with winning its conference-opening series at TCU in mid-March.
"For us to go on the road and win that series started it for us," Price said. "We salvaged the Oklahoma series (last weekend) by winning the last day, and then we came home and defended against another top-20 team today. So I feel really good that we're over .500 after three weeks."
Okalahoma State 100 001 000 — 2 7 4
Kansas 210 000 000 — 3 6 0
W – Wes Benjamin, 3-3. L – Tyler Nurdin, 0-1. Sv – Jordan Piché (6)
2B: Tanner Krietemeier, OSU.
KU highlights: Benjamin 6 IP, 4 H, 2 ER, 3 K; Piché 3 IP 3 H, 0 ER, 0 K; Dakota Smith RBI; Tucker Tharp RBI, SAC; Justin Protacio 1-for-4, R; Kevin Kuntz 1-for-3, SAC, 1 R; Michael Suiter 1-for-3; Alex DeLeon 1-for-3, SAC; Connor McKay 1-for-3, R, SB; Ka'iana Eldredge 1-for-3.