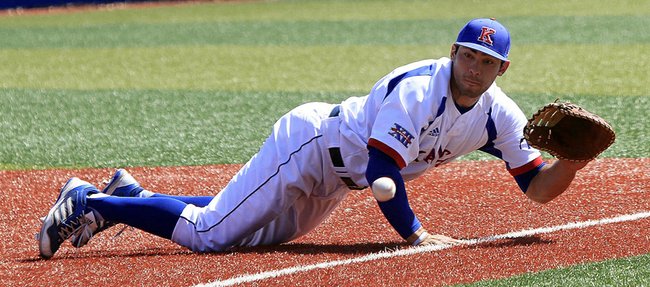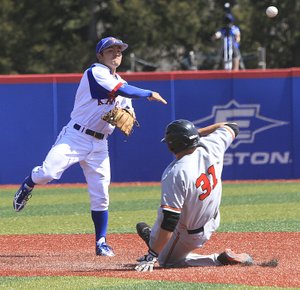 A switch to a different day wasn't enough to get Kansas University baseball pitcher Frank Duncan out of an extended funk.
Oklahoma State knocked the junior right-hander around for seven runs in 5 2/3 innings, taking control early in a 14-3 victory over KU on Saturday afternoon at Hoglund Ballpark.
"He's lost swag, if you want my opinion about it," KU coach Ritch Price said. "You can almost see it out there."
Duncan made his first appearance of the year on a Saturday after spending the last 11⁄2 seasons as KU's Friday starter — the spot reserved in college baseball for a team's ace.
He didn't see a change in results.
The San Francisco native allowed a career-high 12 hits, including three that went for extra bases.
"Almost every breaking ball or change-up he left up today got hit and got hit hard someplace," Price said. "A year ago, he was finishing pitches and finishing hitters with two strikes.
"So it's a huge concern. There's no doubt about it."
The problem wasn't Duncan's ability to throw strikes. An All-Big 12 second-team selection a year ago, Duncan surrendered no walks to go with two strikeouts.
"I didn't beat myself," Duncan said. "Unfortunately, Oklahoma State did a great job of hitting. They kept their hands back well on off-speed."
Duncan's struggles in Big 12 play have been glaring. Through three starts, his ERA is 10.40, and opponents are hitting .420 off him.
To compare, his Big 12 ERA was 2.88 a year ago with a .213 batting average against.
Duncan admits he's still trying to regain his previous form after not throwing as much in the offseason because of a shoulder injury, and his ineffectiveness has Price considering his options.
Last week, the coach made two changes — moving Duncan from Friday to Saturday in the rotation and having him come in relief during a mid-week game — to try to get his pitcher's rhythm and confidence back.
Now, Price said he and pitching coach Ryan Graves will meet this week to determine whether Duncan, whose 3.23 ERA last season was the best by a Jayhawk since 2001, needs to come out of the weekend pitching rotation altogether.
"He's been the No. 1 guy on our staff the last two years. When he's good, he's really good," Price said. "Obviously, if he was pitching better, we'd have a pretty good team — if we could get him to pitch at the level he's capable of pitching."
The Jayhawks' only offense came too late.
With KU trailing 7-0 in the seventh, outfielder Tucker Tharp broke an 0-for-16 slump with a three-run triple that banged off the center-field wall more than 400 feet away.
KU mustered just seven hits, with only two in the first six innings.
Meanwhile, the Cowboys' 14 runs and 18 hits were the most allowed by KU this season. The Jayhawks' three errors also tied a season high.
"We broke down in every phase of the game today and absolutely got boat-raced," Price said. "Clearly, that's our worst performance of the year."
Mark Robinette picked up the win for OSU (22-7, 4-3 Big 12), allowing three runs in 62⁄3 innings with just one walk and four strikeouts.
After splitting the first two games of the series, KU (17-12, 4-4) will send sophomore Wes Benjamin to the mound in today's 1 p.m. finale.
"Quite honestly, I expect us to win (today)," Price said.
Oklahoma State 120 103 043 — 14 18 0
Kansas 000 000 300 — 3 7 3
W — Mark Robinette, 2-0. L — Frank Duncan, 2-4.
2B — Saulyer Saxon, OSU; Zach Fish, OSU. 3B — Tucker Tharp, KU. HR — Robbie Rea, OSU.
KU highlights — Tucker Tharp 1-for-3, 3 RBIs; Michael Suiter 2-for-4; Jordan Dreiling 1-for-3, R; Ka'iana Eldredge 1-for-3, R.
More like this story on KUsports.com