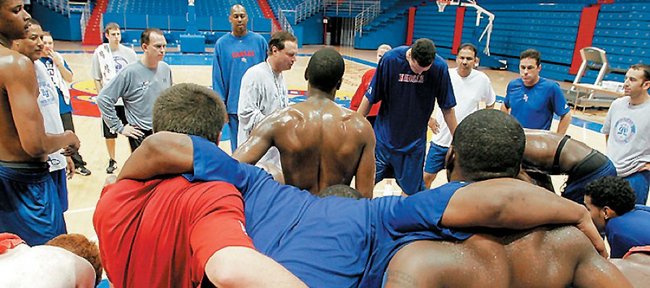 There's a four-letter word that best describes Bill Self's Kansas University basketball Boot Camp.
"Pain," KU freshman guard Rio Adams said Thursday with a smile. "It's pain you don't mind going through," the 6-foot-3 Seattle native quickly added.
Adams and his 16 Jayhawk teammates were to gather in KU's hoops practice facility from 6 a.m. until shortly after 7 a.m., today, for the sixth of 11 Boot Camp workouts of the 2012-13 preseason. KU had two-a-days on Monday after a sub-par opening session.
After a two-day break, the players will be back in the gym for the start of the second and final week of Boot Camp bright and early Monday.
"It's the hardest thing I've ever done. I'm not going to lie," said KU freshman power forward Zach Peters.
"But it's good. Everybody is going in there working on things you don't do in a normal basketball practice," the 6-9, 240-pounder from Plano, Texas, added of sprints, defensive slides, backboard touches and the like. "Getting that done, you get in the best shape of your life. You don't like it while you are doing it, but it's good afterward and it pays off in the long run."
KU red-shirt freshman guard Ben McLemore says his first Boot Camp has been an eye-opening experience. The 6-5 St. Louis native was on campus a year ago, but unable to participate as he awaited word from the NCAA on his eligibility.
"I mean it's one of the hardest things I've ever done in my life as far as conditioning and getting into shape," McLemore said. "Just getting up at 5:30 in the morning for running, doing defensive slides and backboard touches. The hardest part is getting up. It's what all the upperclassmen told us was the hardest. They were right."
As far as individual stars so far ...
"I'd say Landen Lucas is doing a great job. For his size ... he's getting through it (by) working really hard," McLemore said of the 6-foot-10, 230 pound freshman center from Portland.
Adams said he's been impressed with "the four returnees (Elijah Johnson, Travis Releford, Jeff Withey and Kevin Young). They are really pushing us and getting us out of our element and our comfort zone which is really important so we can be prepared for the season."
Peters cited ... "Travis Releford. He's in really good shape. He is one of the hardest workers I've seen."
Others are following the seniors' lead.
"This brings you together and makes you stronger," Peters said of the team. "Everyone realizes how much they can do, how many walls they can break through mentally and stuff like that.
"Everybody definitely has a positive attitude. We're working hard trying to get through the first week and push onto the next week."
"We definitely are here for business and to win for the city," Adams noted. "That's what we're going to do."
New scoreboard: A new high-definition video board is being installed in Allen Fieldhouse in time for the Oct. 12 Late Night in the Phog.
The Daktronics center-hung scoreboard will remain as the same structure as the old board. However, the new video portion will increase to 18 feet wide and nearly 10 feet tall with HD resolution, which is three feet wider and a foot taller than the previous standard definition board.
A new Alpha Video control room, built in the same location as the current control room, will feature five HD studio cameras, a production switcher, an audio and video routing switcher with integrated multi-image viewers, an 8-channel slow-motion system, a dual channel clip server, a character generator and playback/recording equipment.
Recruiting: Frank Mason, a 5-11, 160-pound senior point guard from Massanutten Military Academy in Woodstock, Va., is scheduled to visit KU this weekend. Mason, who is ranked No. 131 nationally by Rivals.com, signed with Towson last November, but elected to attend prep school for academic reasons. He now has KU, South Carolina, Tennessee, Oklahoma State, Virginia Tech and others on his list. Mason averaged 27 points a game last season at Petersburg (Va.) High. He was region player of the year for the two-time state runner-up team. ... Demetrius Jackson, a 6-1 point guard from Mishawaka, Ind., on Thursday committed to Notre Dame over runner-up Illinois. At one point he had KU on his list.
More like this story on KUsports.com