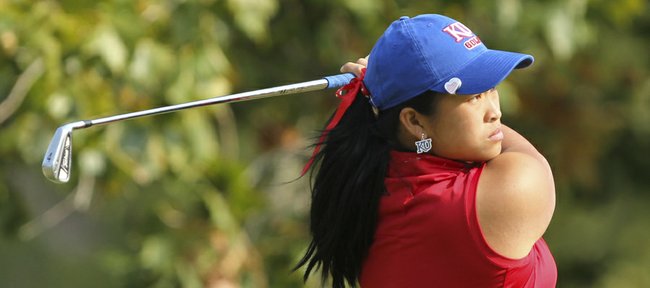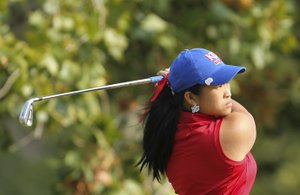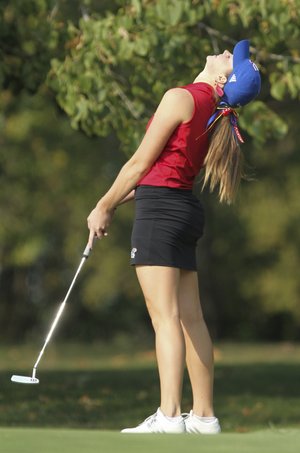 Kansas University's women's golfers spent a productive 11 hours at the office — in their case Alvamar Golf Club — on Monday.
"A 36-hole day is like a marathon, so you just have to pace yourself. They did a good job of it," KU coach Erin O'Neil said Monday night after her Jayhawks carded a 36-hole score of 601, good for a 16-stroke lead over runner-up Arkansas State entering today's final 18-hole round of the 13-team Marilynn Smith Sunflower Invitational.
Kansas State is 18 strokes back at 619, followed by Middle Tennessee State (626), Illinois State (630), North Dakota State and Arkansas-Little Rock (634), Oral Roberts (636), Wichita State and Northern Iowa (649), New Mexico State (650), UMKC (654) and Florida Gulf Coast (658).
"It helps that this is our home course, (but) I think this has been coming," O'Neil said. "They did a good job of making sure they did the things they needed to keep their energy up and focus. That's a big part of a 36-hole day. I'm encouraged by what I see. We played better in the second round (by five strokes). Overall, we've improved quite a bit from last season to this season."
KU freshman Yupaporn Kawinpakorn shot a 1-over 73 in both rounds and trailed Arkansas State's Abigail Laker by three shots. Tourney leader Laker had rounds of 74 and 69.
KU junior Thanuttra Boonraksasat (77-72) and sophomore Gabby DiMarco (74-75) are tied for fourth at 149. KU's Meghan Potee is tied for 18th at 79-78—157. Others: Audrey Yowell, 24th, 81-78—159; Michelle Woods, 37th, 82-80—162; Ann-Kathrin Wuensch, 46th, 85-79—164; Mackenzie Thayer, 54th, 83-83—166; and Carly Humes, 73rd, 96-91—187.
KU's Kawinpakorn is a freshman from Samutprakan, Thailand.
"It's her second college tournament. She has a very soli d golf swing, a great short game. She was a lot of fun to watch today," O'Neil said. "She had eight or nine birdies, which is always a good thing. I think if we can help her get a couple bogies out of there, she could walk away with a little trophy or hardware."
Boonraksasat is a junior from Nonthaburi, Thailand.
"If she could have had a few putts drop, she would have been under par. She's close to breaking through, too," O'Neil said.
The final round starts at 8:15 a.m. today at Alvamar.
More like this story on KUsports.com