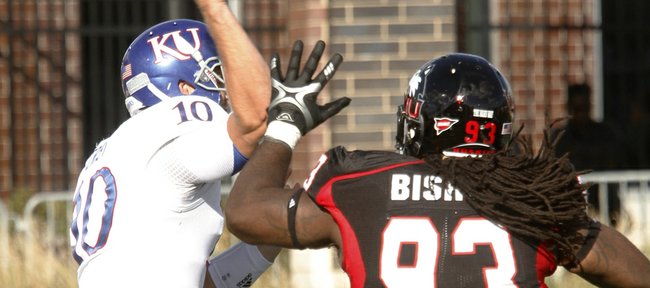 Every Sunday, win or lose, Kansas University's football team gets together to watch film and break down what went right and what went wrong the day before.
This Sunday, the review session took on a little different form.
"Today, we watched the fourth quarter," KU coach Charlie Weis said. "The entire team watched the entire fourth quarter, from (Tyler) Patmon's interception right to the end of the game; consecutive plays, so they see how you go from a two-score lead to losing the game."
That's exactly what happened Saturday, when Patmon's interception return for a touchdown gave the Jayhawks a 23-13 lead at Northern Illinois with 14:33 to play. Exactly 10 minutes later, the Jayhawks (1-3) trailed, 30-23, and went on to lose their third straight game.
Weis was asked Sunday night if his decision to make his players sit through the collapse collectively was the equivalent of some type of detention.
"That wasn't a punishment at all," he said. "That was reality."
Watching game film, of course, is customary and is a regular part of every Sunday practice. But most weeks, the film is reviewed by position, with offensive players watching offensive tape and defensive players watching defense. Weis changed it up this week to help emphasize that the blame for the Jayhawks' early-season struggles extends to everyone in the locker room. Doing so, he hoped, would continue to push the message that they're all in this together.
"The whole team could hear the coaching points for every position," Weis said. "The defense could hear me talk to the quarterback. The offense could hear (defensive coordinator Dave) Campo talk to the secondary. Everyone could hear all the assistant coaches giving the coaching points so the team knows the offense could've won the game, the defense could've won the game, special teams could've won the game."
Overall, Weis said the Jayhawks' reaction to Saturday's loss was much different than the one they encountered after suffering a similar setback against Rice in Week Two, when the Owls erased an 11-point fourth-quarter deficit to win on a field goal as time expired.
"The Rice one, I think they were a little bit shocked," Weis said. "This one, I think they were more hurt than shocked. And that's what you want them to be. You want them to be quiet. That's what they were. They reacted the way you want the team to react."
Despite his team's disappointment, Weis did not change anything about his mental approach Sunday.
"I was not easy on them," he said. "It was not a come-in-and-everything-is-beautiful (day). That's not my way."
O-Line breakdown ID'd
Weis said KU's meltdown in pass protection during Saturday's loss to NIU came as a result of the Huskies setting up their defensive linemen on the right side a little wider than normal.
"We got beat on the same alignment twice on the right side," Weis said. "They really put the (KU) right guard and the right tackle a little bit on an island. Now, it shouldn't have been that difficult for us to pick up. It shouldn't have happened the first time."
After staying clean for most of the first three quarters, KU quarterback Dayne Crist was sacked three times in the fourth quarter and hurried at least twice that many.
"They mixed it up," Crist said of NIU's pass rush. "They brought a little bit more pressure the second half. They weren't a heavy blitz team on the surface, but they definitely turned it up in the second half and were pretty disruptive."
Injury update
Weis said the prognosis for injured running back Taylor Cox looked better than he thought it would on Sunday.
Cox, a junior who left Saturday's loss because of an injury after just three carries, appeared to have trainers looking at the back of his right leg on the sideline. Cox remained in uniform and on the bench throughout the game but did not return to the field.
"I expected him to be listed as doubtful or out, and he wasn't listed as doubtful or out," Weis said. "With it being a bye week, they thought he had a chance of playing in the next game."
KU is off this week and will play Oct. 6 at Kansas State.
More like this story on KUsports.com