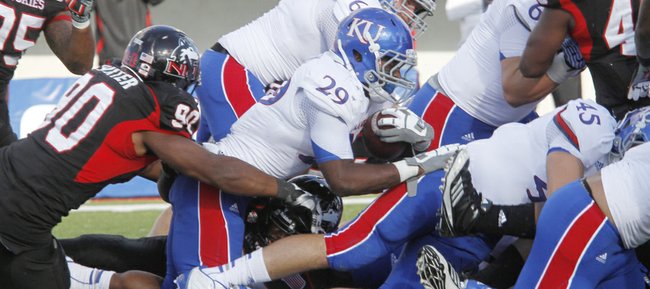 Dekalb, Ill. — Kansas University's football team welcomed junior James Sims back to the huddle Saturday, and his return could not have come at a better time, as junior Taylor Cox, who picked up a lot of the slack during Sims' suspension, left Saturday's 30-23 loss to Northern Illinois in the first quarter and did not return.
Cox got off to a hot start, rushing for 19 yards on three carries, including a powerful 14-yard run on KU's first offensive play. But shortly after his third carry, he limped off the field and drew attention from KU's trainers on the sideline. They appeared to be looking at the back of his right leg, but there was no update on his status after the game. He remained in uniform on the sideline but did not return.
With Cox out, Sims' workload skyrocketed. Part of that was out of necessity, and part of it was because Sims showed no rust.
"It's great to have him back," KU quarterback Dayne Crist said. "For him to carry the load the way he did today was pretty great. (He's) a guy that we've wanted all along, and we're fortunate and happy to have back."
Sims led the Jayhawks in yards (91) and attempts (18), outpacing sophomore speed back Tony Pierson, who finished with 30 yards on 10 carries.
Asked to sum up his first game of the 2012 season, Sims played down his performance.
"I felt pretty good out there," he said. "Getting back into action was great. I felt comfortable."
Sims, who was sidelined because of an offseason DUI arrest, ran early like a player trying to apologize to his teammates for his mistake.
"I did," he said. "I made some mistakes, but you live and you learn from them, and that's what I did. I just built on it and just got better. Taylor Cox and Tony Pierson both did a great job the three games I was out."
Matthews shines
Dropped way off the KU depth chart at wide receiver, junior Christian Matthews found another way to contribute to the Jayhawks' offense on Saturday — as a quarterback.
Nearly a dozen times throughout Saturday's loss, Matthews took the direct snap from center as the Jayhawks' Wildcat QB. He carried five times for 43 yards and wisely allowed plays to develop for Pierson, Sims and Cox.
Getting back into the action was a blast, Matthews said, and he was not surprised by his effectiveness.
"We practice every day," he said. "Coach put me in, and he trusted me to make the plays. I just tried to make the best of (them)."
Asked if the Matthews-heavy Wildcat package was designed specifically for Northern Illinois, Matthews said it was something the coaches had been working up to. KU coach Charlie Weis said Army's 486-yard, triple-option output against NIU last week inspired him to look into getting Matthews more involved.
"We have Wildcat available to us, and we just felt it was going to give us a chance to move the ball," Weis said.
The new wrinkle took some of the pressure off Crist, who stayed on the field as a wideout when Matthews took the snaps.
"He's a great athlete," Crist said. "We're happy that he got in the mix. It was a great package for us, and I'm sure we'll continue to build on that."
First-time starters
Senior linebacker Anthony McDonald and Cox made their first career starts for the Jayhawks on Saturday, replacing Huldon Tharp and Pierson in the lineup. Junior tight end Charles Brooks also made his KU debut.
McDonald finished with a career-high 11 tackles. Safety Dexter Linton, who once again started in place of injured senior Lubbock Smith, had a career-high eight tackles. Sophomore linebacker Ben Heeney led all KU defenders with a career-high 12 tackles.
This and that ...
The Jayhawks won Saturday's opening coin toss and elected to defer their choice to the second half. NIU chose to receive the opening kickoff. ... Former KU and Chicago Bears great Gale Sayers was on hand to assist in the opening coin toss. ... Senior linebacker Tunde Bakare served as the team's fourth captain after being voted by KU's coaches as the top special teams performer against TCU. ... Temperature at kickoff was 56 degrees, under mostly sunny skies with winds of 11-15 mph out of the northwest.
More like this story on KUsports.com