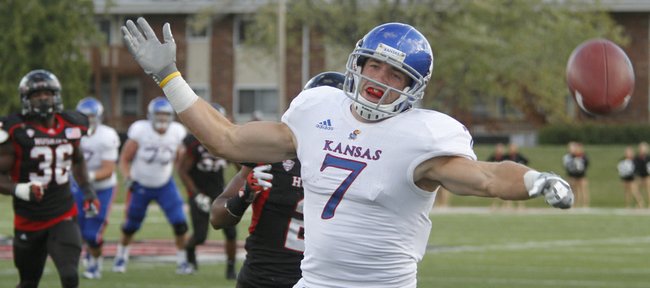 Another week, another loss, another day Kansas University senior quarterback Dayne Crist found himself answering questions about his role from the wrong end of the game's pivotal fourth-quarter play.
This time, it wasn't a Crist turnover, like either the late interception against Rice on an ill-advised 50-50 pass or the fumble late in the TCU game with his team threatening to cut the lead to a touchdown. Instead, it was a play Crist didn't make, a play that looked so easy, a would-be touchdown pass he didn't come close to completing in Saturday's 30-23 loss to Northern Illinois at Huskie Stadium.
On a fourth-and-17 play from the 29 with KU leading by three points with 10 minutes left, senior receiver Kale Pick somehow broke wide-open, too open to miss. Crist missed him by a country mile. It almost looked as if he appeared so startled to see Pick alone that he rushed a panicked throw.
"I don't know if it caught me off-guard too much," Crist said after the game. "I mean, it was a little surprising coming up and seeing it because it shouldn't have been there."
That response might have revealed a little bit about the fifth-year senior quarterback who transferred to KU for one season after graduating from Notre Dame. Some athletes are better at sticking to the plan. Others perform well on the fly. Statistically one of the nation's lowest-rated starting quarterbacks, Crist does not do his best work improvising.
On an afternoon when the right side of the offensive line broke down late in the game, Crist was sacked four times. He completed just 10 of 26 passes for 147 yards. On the season, he has a low completion percentage of 50.5, has thrown two touchdown passes and four interceptions.
With one-third of the season in the books, I figured the time was ripe to ask the question that had to hang in other heads as Kansas lost a two-possession lead for the second time in three weeks: Is Crist this team's quarterback throughout the rest of the season, regardless of his performance?
Head coach Charlie Weis answered my question with one of his own: "Is this the quarterback controversy question?"
"Yes," I answered.
And he answered in such a way as to take the air out of the controversy. He didn't grow defensive. He didn't try to blame Crist's bad plays on others. He gave his honest assessment of the situation.
"I think that when we go back and watch (the game film), if there's reason to replace the first guy with the second guy, you go ahead and do it," Weis said. "It doesn't make any difference what position they play. I think if the second guy were close enough to the first guy, sometimes that decision would be a lot easier, but there is a big separation between the first guy and the second guy."
The second guy, according to the depth chart, is strong-armed red-shirt freshman Michael Cummings, the third guy sophomore dual-threat Turner Baty, a junior-college transfer.
If either one of them were to get a serious look, the two-week break in the schedule would be the time to make it happen, but Weis doesn't sound like a coach ready to make a change.
Senior linebacker Anthony McDonald teamed with Crist in high school in Southern California and at Notre Dame.
"I've been around him for 10 years," McDonald said. "I know how he responds. He's the best quarterback I've ever been around."
One-third of the way into his entire Kansas career, Crist hasn't resembled someone who would inspire those words, but he hasn't run out of chances.
In the second half, when the protection broke down, particularly on the right side of the line, Crist completed four of 15 passes for 39 yards and was sacked three times. Nobody would have remembered those misfires had Crist hit Pick on a play that would have given Kansas a 10-point lead with 10 minutes remaining.
One less Crist throw against Rice and one better Crist throw in the Northern Illinois game and Kansas might be 3-1 instead of 1-3.
More like this story on KUsports.com