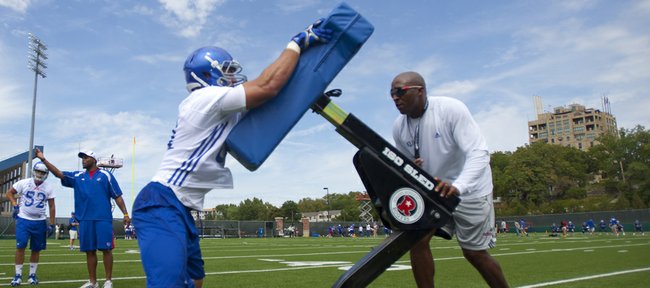 During his last semester at Notre Dame, Anthony McDonald attended presentations but told recruiters there that they'd have to wait a year for him.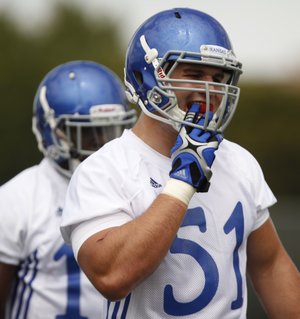 The linebacker was about to reunite with former coach Charlie Weis at Kansas to play as a fifth-year senior.
"It's another year," McDonald said, "to play the sport I love."
To do that, McDonald has pushed back his plans of training to work with national security.
Eventually, he'd like to end up with the FBI or CIA.
"I feel it's a higher calling," McDonald said. "That's what I feel ... that (it's what) I'm meant to do."
Part of the reason for that is his family history.
McDonald says that kind of work is "in his blood," as his late grandfather, John Manocchia, served in the Army and Navy before becoming a detective in Los Angeles.
"He really didn't like to talk much about everything he went through, but he was a great man, and he inspired me to get going on that," McDonald said. "I always told him that I wanted to do something like that because of him, and he was really encouraging about it.
"He basically told me to follow my heart and do what I want. He wasn't trying to push it on me. But he said he had a great time."
McDonald's interest also grew once he started watching the CBS show "Criminal Minds," a drama centered around members of the FBI's Behavioral Analysis Unit.
"I watch that religiously," McDonald said.
After KU, the plan is to get back in contact with the FBI and CIA representatives he met with at Notre Dame.
From there, he'll apply for further training after a thorough government background check.
McDonald performed well in his first chance to help his team's defense Saturday, posting six tackles to go with a fumble recovery against TCU.
"He was involved in a bunch more tackles than I would've thought in his first game out there," KU coach Charlie Weis during his weekly radio show Monday. "He didn't look too rusty, and now we have another quality player in our depth."
McDonald was held out of the Jayhawks' first two games because of injury. He also missed some time at Notre Dame last year after tearing his pectoral muscle, though he was able to get in for a few snaps toward the end of the season.
The Burbank, Calif., native believes he can bring both experience and aggressiveness to KU's linebacking unit.
After the first few plays Saturday, McDonald said he "got in a zone," especially after going one-on-one against 6-foot-1, 227-pound running back Matt Tucker.
"We had some collisions," McDonald said. "I stood up the one time, and my eyes were kind of cross-eyed. I was like, 'Well, back playing ball. Playing football again.'"
McDonald — he said he felt fine physically after the game — shook off the hits quickly.
"It didn't feel good when it happened," McDonald said with a smile, "but thinking about it ... it was good to be back out there."
More like this story on KUsports.com