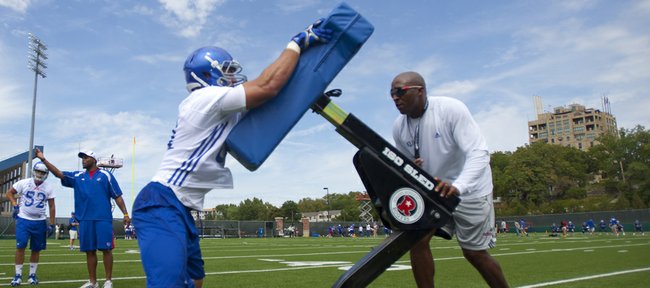 Three years ago, in September of 2009, a Kansas University freshman named Bradley McDougald hopped onto a plane and traveled to the first road football game of his college career.
During Week 2 of the 2009 season the Jayhawks were matched up with UTEP, in El Paso, Texas, and, although many believed the game would be a tough challenge for a KU squad coming off of back-to-back bowl victories, the final score said otherwise — Kansas 34, UTEP 7.
"I just remember that feeling of watching the fans leave and going in there and staying focused and getting a win," McDougald said.
At the time, McDougald figured winning on the road would become a common occurrence during the next few seasons. It hasn't been. The Jayhawks have not won away from Memorial Stadium since that game, and at 2:30 p.m. today, against Northern Illinois, they'll look to snap their 13-game road losing streak.
While the road woes contributed to KU missing out on postseason play for three straight seasons, the losing streak also lowered team morale. Although he has experienced it more times than he would care to recall, the heaviness of a plane ride home after a loss hangs with McDougald.
"It just feels like you got fired, and you gotta ride with your boss all the way back," he said. "It's just not a good feeling."
Of course, the scene after the UTEP victory was just the opposite.
"You're watching 'SportsCenter,' you're watching other college games, you're laughing about some of the plays that went on during the course of the game and some of the funny things you saw on the field," McDougald remembered. "It's just a good feeling."
KU coach Charlie Weis was not a part of any of those losses. But you might think he was based on how much he emphasized them during this week's preparations for NIU. McDougald, for one, was glad Weis stressed the streak so much.
"If anything, it should be motivation," he said. "Especially for the older guys."
Although going on the road can present all kinds of challenges, Weis said there also were some advantages.
"As long as you handle it as a business trip, you have very few distractions," he said. "When you are home — and I am not saying having your family or friends in is a bad thing; it's a great thing — but, you know, you are worried about tickets. You are worrying about where dinner is going to be after the game. There's a lot of other factors. When you are going on the road, you go to a hotel and have your meetings, watch a little TV, go to bed, get up and have meetings for the day, hop on the bus, go to the game, and let's go."
Sing on
Three games into his time at KU, Weis' new postgame tradition of his players singing KU's alma mater in front of the student section has caught on quickly.
With Saturday's trip to Northern Illinois marking the first road game of his KU career, Weis was asked if the tradition would carry on while the Jayhawks were on the road. He said it would — win or lose — as long as his staff could find an obvious KU section at Huskie Stadium.
"I'm certainly not singing to their fans," Weis said on his weekly radio show. "If we can identify an area of our fans, hopefully we have a nice victory over Northern Illinois and go over there and enjoy ourselves."
Series history
This week's game marks the third meeting all-time between the Jayhawks and Huskies. The series is tied at 1, with both of the previous meetings taking place at Memorial Stadium in Lawrence.
NIU won, 37-34, on Sept. 3, 1983, and the Jayhawks evened the score with a 45-42 victory on Sept. 10 of last year.
More like this story on KUsports.com