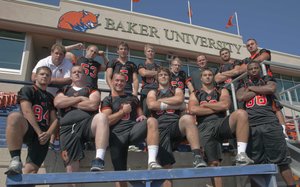 Baldwin City — High school football players from Lawrence follow Jason Thoren to Baker University the way rats followed the Pied Piper of Hamelin to the river.
But unlike the rats that drowned, the nine Free State and three Lawrence High football players on Baker's roster, to hear them tell it, find a slice of small-school football paradise. For one thing, they never know who from the world they watch on television might walk into their shadows.
"Last spring I was sitting in the film room, had some defensive guys in there, we're watching film, and the door opens," said Thoren, Baker's defensive coordinator and a former player at Lawrence High and Kansas University. "Ten minutes later, when I turned around, I realized it was coach McCarthy."
As in Mike McCarthy, Super Bowl-winning coach of the Green Bay Packers and a former Baker tight end.
"Hey, coach, how are you?" Thoren said when he realized who had been watching film in silence with them.
"You know," McCarthy told him, "we've got the same problems."
Looking back on that moment, Thoren said, "That's just kind of who he is. As big and powerful as he is, he just sat back there and listened and watched. He just loves the game of football. That's why he's so successful. It's exciting to have him part of it."
McCarthy is more than just a celebrity guest making cameo appearances at his alma mater. A junior-college teammate of Baker's ninth-year head football coach, Mike Grossner, McCarthy is in the fifth year of helping to fund his alma mater's scholarships. This year and last, he had it written into his contract that he would donate $100,000 a year to Baker. In the three years before that, he donated $50,000, and the Packers matched it, according to Grossner, McCarthy's junior-college quarterback.
McCarthy's on the school's board and has a daughter who attends KU, so there's no telling when he might show up at a Baker game.
Two years ago, in town for his induction ceremony to the Baker Hall of Fame, he stopped by the locker room as the team was getting ready to huddle up before the Central Methodist game.
"I let him talk to the team," Grossner said. "It was great. He teared up. The smell of the locker room was the same as he remembered. You talk about a memory for those kids. Here's Green Bay's head coach walking in and feeling like he hadn't left."
A Super Bowl coach walking into Baker's locker room one day, a tailback who started a game at USC and played in nine others walks in another day. And he doesn't walk back out. Dillon Baxter, who rushed for 252 yards for the Trojans in 2010, joined the Wildcats over the summer.
Slowed by an ankle injury, he's rounding into shape for the 4-0 Wildcats, ranked ninth in the nation in the NAIA coaches' Top 25 poll, who face 3-0 Missouri Valley at 6 p.m. Saturday in Liston Stadium.
But Baker's dozen players from Lawrence high schools didn't head south just fewer than 20 miles in order to stargaze. They came to play football and in many cases came because players they had played with in high school gave them positive scouting reports about the Baker experience.
Lawrence's two head football coaches, Bob Lisher and Dirk Wedd, were assistants on Dick Purdy's staff when Thoren played for the Lions.
Thoren, in his ninth season at Baker, said Free State's Philip Weinmaster was his first Lawrence recruit. Philip's brother, Kyle, followed him to Baker. And Ryder Werts, a four-year starter at linebacker for Baker, followed Kyle Weinmaster, his old high school teammate, to college.
"I was heavily recruited to Baker by coach Thoren, and I was told by some of my coaches at Free State that he was an old-time, big-time Lawrence guy," Werts said. "Also, Kyle Weinmaster was here playing D-line. I knew somebody here, and I wanted to be a big part of something at a smaller school, and I had an opportunity to come here and start for four years."
Werts remembered what Weinmaster told him about BU.
"He said the coaching staff is really big-time and that you'd be surprised when you go in there how professional it is, how everyone carries himself, and it's a really good place to be," Werts said.
Werts, in Grossner's words "a true linebacker, a tough son of a gun," has been wearing a cast on his left arm the past three weeks. Any restrictions placed by the referees?
"No, no rules at all," Werts said of the cast. "It just has to be padded, and then it's fair game. Anything goes."
Then he smiled that twisted linebacker smile.
Senior Jake Green, a former LHS running back, led the team in receiving yards and touchdowns last season.
Senior Jack Caywood, a 180-pound nose tackle, came to Baker because after helping Free State get to the Class 6A state title game his senior season, he wasn't ready to stop experiencing football and all the camaraderie that goes with it.
"They were the only school that recruited me," Caywood said. "We've got a great feel as a team again."
Thoren's most fruitful Lawrence recruiting haul came when he landed four Firebirds from the Class of 2011: Justin McCandless, Cale Nieder, Dylan Perry and Preston Schenck (team-high three interceptions), teammates at Southwest Junior High, then Free State, now Baker.
Grossner likes recruiting Lawrence athletes because, "It's close to home, and the parents can watch them continue their careers, but the other thing is I think the Sunflower League plays good football, so those guys, for the most part, have been able to come in and compete right away."
The parents, siblings and friends who used to sit on opposite sides of the stadium during city rivalry games sit together now, and they'll all be wearing the same color Saturday, designated as a "Blackout" game. Baker's Lawrence dozen and the rest of the Fabulous Baker Boys will face the nation's No. 5 team Saturday.
"Big game Saturday," Grossner understated.