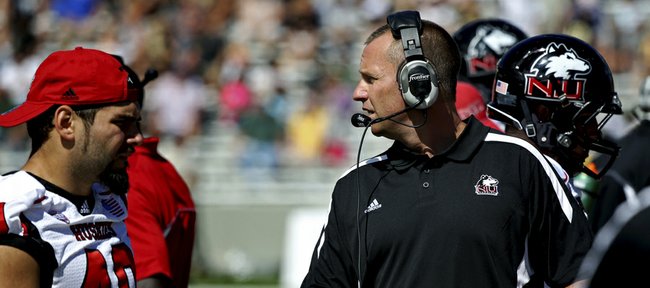 Don't let the numbers fool you.
Sure, in its one-point loss last week, Army ran for 486 yards against the Northern Illinois defense, but the Black Knights also attempted 86 rushing plays and asked quarterback Trent Steelman to throw just three times.
That's often the result of the triple-option attack for which Army is known, and season after season the Knights' run-first-and-run-often philosophy severely skews the defensive numbers of their opponents.
When Kansas University's football team travels to DeKalb, Ill., Saturday for its Week 4 match-up with NIU, the Jayhawks will be playing one of the worst teams in college football against the run. But that's on paper. Take away the Huskies' Week 3 match-up with Army, and you're looking at a team closer to the middle of the pack in rush defense.
NIU coach Dave Doeren, a Kansas City native and former KU assistant, knows that's true, but he still felt it important enough to remind his players early this week.
"We spent a lot of time (Sunday) on the field with our guys just walking through our base defense and our third-down stuff," Doeren said Monday morning, "just kind of polishing things back up and getting that option stuff out of their minds."
In Kansas (1-2), Northern Illinois (2-1) will face a pro-style offense that has been pretty balanced during the first three weeks of the season.
Although the Jayhawks have been far more efficient and productive with their running game, KU coach Charlie Weis has showcased senior quarterback Dayne Crist and the passing game just as much.
Crist has thrown for 616 yards and two touchdowns on 52-of-103 passing. KU's ground attack has run 110 plays and rumbled to 535 yards and five TDs.
That type of balance figures to make picking a spot to attack difficult, Doeren said.
"It is a challenge," he said. "I told the guys last week we need to put everybody in neck rolls because that's basically what everybody's doing is shedding blocks and tackling, and now you're back into being an athlete in space."
Doeren bemoans 2011
In his first game back in Lawrence as a head coach, Doeren's Huskies fell to the Jayhawks, 45-42, during Week 2 of the 2011 season. It's a loss that still sticks with him.
"That was a game, in my opinion, that we gave away," said Doeren of the game that KU won on its final offensive play. "A lot of times, when you lose a football game, the team you're playing beats ya. It's really tough when you beat yourself, and I felt like we beat ourselves in that game last year."
Based on what he's seen on film, Doeren believes this year's Jayhawks will be an even tougher team to topple Saturday.
"Well, they're a much better team than they were a year ago," Doeren said. "We know we're gonna have to play a lot better to be in this game. Coach Weis and his staff have done a nice job, they're playing very sound, and they're not beating themselves."
Doeren credits the continued success of KU's running game and the new coaching staff for KU's improvement.
"I just think they've got guys who know what they're doing, and they're putting their kids in really good positions," he said. "The biggest thing is their defense is playing extremely sound, they're playing hard, they're well coached. I mean, (KU defensive coordinator) Dave Campo's one of the best secondary coaches in college football and pro football."
Doeren also said the addition of several junior-college and fifth-year transfers had given KU a different edge.
"Tough guys that have really made their team a veteran team quickly," he said.
Sims to return
With his three-game suspension served, junior James Sims, KU's leading rusher in 2010 and 2011, is expected to play this weekend.
"I think he has paid his penance," Weis said. "Sims sitting out three games has certainly not helped us, and it hasn't helped him. I think there is a right way and a wrong way of doing business, and we are going to be happy to have him back. My job as the offensive coordinator is to sit down with the staff and figure out, with (Tony) Pierson and Taylor Cox having good years, trying to (get) Sims back into that mix."
The Jayhawks also are expected to have available long snapper Justin Carnes, who also was suspended for the first three games of the season.
More like this story on KUsports.com