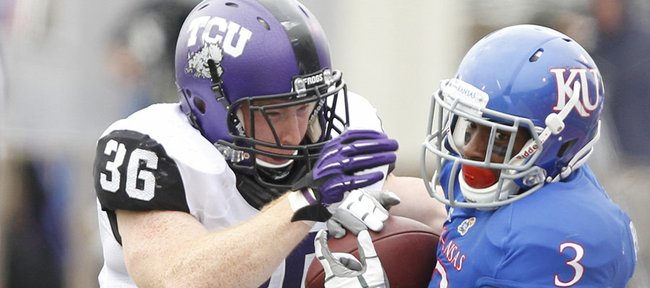 It's hard to call a team's leading rusher its secret weapon, but in a way, that's exactly what KU sophomore Tony Pierson was during Saturday's 20-6 loss to TCU.
Instead of pounding away on the ground like he had during KU's first two games of the season, Pierson became a factor through the air, catching six passes for 99 yards to lead KU's aerial attack.
"Going into this game, we thought that one of the match-ups we could get was Tony versus linebackers," KU coach Charlie Weis said after the game. "We thought it could be a very good match-up for us, and he ended up making some plays in the pass game."
Most of Pierson's catches were on screen passes out of the backfield. But on a couple of occasions the 5-foot-10, 170-pound speed back became more of a down-the-field threat, picking up receptions of 26 and 25 yards. Pierson also added 35 yards on nine carries but said he was most pleased with his receptions.
"I'm more comfortable with receiving because I played it a whole lot in high school," he said. "It gets me out in space more and it puts me and (junior tailback) Taylor (Cox) on the field at the same time, and that's something we need."
Both Weis and KU quarterback Dayne Crist said they were impressed with Pierson's production as a receiver. Neither was surprised.
"Whether he's the first or fourth guy in your progression, you know if you get him the ball, he has a chance to do something special," Crist said.
Added sophomore receiver Andrew Turzilli: "Wow. He did a great job receiving and that adds another dimension to the offense, so we're excited about that."
Filling in
Speaking of KU's receivers, reserves Turzilli and Chris Omigie both received extended playing time Saturday because of the absence of senior Kale Pick, who missed the game because of a knee injury.
The two combined for 151 yards on six receptions, including a 42-yard grab late in the game by Turzilli, who drew most of KU's deep balls.
"I think he gained a lot of valuable experience today, because he's got a lot of ability," Weis said of Turzilli, who made the first start of his career.
Turzilli finished with three catches for 100 yards, marking the first time KU had a receiver reach the century mark since JaCorey Shepherd in last year's season-opener against McNeese State.
In other injury news, senior safety Lubbock Smith also missed Saturday's game with a leg injury. Junior Dexter Linton started in Smith's place and finished with six tackles.
McDonald makes debut
Senior linebacker Anthony McDonald, a transfer from Notre Dame, played his first game of the season and finished with six tackles and a fumble recovery. The second-string outside linebacker played extended snaps because of a minor injury to KU starter Huldon Tharp.
"We intended to play him some anyway, and he ended up playing a whole bunch," Weis said. "He definitely showed up for his first game out there."
Added McDonald: "When I got out there, it was a little slow start, because I haven't been in in awhile. But I feel like I got in the zone towards the middle of that second half. I felt great out there playing. I was just playing ball like I know how to do. It was fun. It felt really good."
Crist clobbered
In addition to sacking KU quarterback Dayne Crist three times on Saturday, the TCU defense recorded four QB hurries, which gave it plenty of opportunity to put a beating on KU's leader.
"I know he's a sore puppy right now," Weis said. "But what'd he do? He just stood in there and stood in there."
Crist, who took longer than normal to get to the interview room, said he felt no ill effects from the extra pressure.
"I'm fine," he said. "I'm a football player."
Early last week, Crist, who threw for 303 yards on 19-of-39 passing, said he planned to start having more fun and vowed to loosen up a little in an attempt to get the offense going. So, did he accomplish that?
"I absolutely did," he said. "I tried to let it loose and just go play. I felt a difference in my game today."
This and that ...
The Jayhawks won Saturday's opening coin toss and elected to defer their choice to the second half. TCU chose to receive the opening kickoff. ... Junior offensive lineman Randall Dent made the first start of his career at right guard in place of Aslam Sterling. ... Junior wide receiver Josh Ford served as the team's fourth captain after being voted by KU's coaches as the top special teams performer against Rice. ... Temperature at kickoff was 67 degrees under cloudy skies with winds of 8 mph out of the east.