Videos
KU coach Charlie Weis postgame: TCU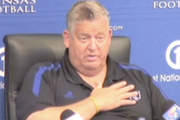 Video of Kansas coach Charlie Weis' postgame press conference following the Jayhawks' 20-6 loss to TCU on Sept. 15, 2012.
Podcast episode
Kansas coach Charlie Weis talks to reporters following the Jayhawks' 20-6 loss to TCU on Sept. 15, 2012.
Hidden in the gargantuan shadows of the Kansas University football team's inability to score touchdowns and kick field goals, Dave Campo's defense week after week has practiced what he has been preaching in his hoarse voice since he left the NFL's most famous franchise to work at the Big 12's most famous basketball school.
The feisty Campo forever challenges his players to force turnovers by finishing plays, and Saturday against the 16th-ranked school in the country, his defense again showed his stamp has taken root already.
Kansas didn't win, losing 20-6 to TCU in the Forth Worth school's Big 12 baptism, but future opponents of KU, picked last in the conference for a reason, no doubt gained respect for the disruptive nature of the Jayhawks' defense.
Three weeks into a 1-2 season, Kansas has a whopping 12 turnovers, including four fumble recoveries against the Horned Frogs (2-0). Unlike in the first two weeks, when the defense set up the offense with good field position that too often didn't translate to points, this week the turnovers repeatedly rescued the KU defense when TCU was well into threatening drives.
TCU amassed 487 yards and averaged 11.2 yards per pass attempt, numbers that suggest it's a strange time to praise a defense. But in contrast to the KU offense, the closer the ball moved to the end zone, the better the defense performed. Led by senior defensive end Toben Opurum, Campo's band of thieves played with an edge seldom seen around here in the past couple of years.
The Horned Frogs drew inside the 20-yard line seven times and had just one touchdown and two field goals to show for those penetrations. (The other touchdown came on a 25-yard pass play).
Turnovers kept the score down. Heading into the week, Kansas ranked second in the nation to SMU (10) with eight turnovers gained.
"Coach Campo made a big emphasis on that when we started camp," senior defensive end Josh Williams said. "Our defense took heed to that and that's been a big thing for us every day in practice, to try to get turnovers."
Campo worked in the NFL from 1989 through 2011, mostly with the Dallas Cowboys, ascending to defensive coordinator (1995-99) and then head coach (2000-2002). He hadn't been in the college game since working on Jimmie Johnson's staff at Miami (1987-88). He always had a reputation as a coach gifted at teaching young players, so in that sense the college game seemed like a good fit. But legitimate questions existed as to whether the wide variety of offensive styles in the college game would send him for a loop.
The defense didn't look great against Rice and the line didn't get much done, but against TCU, it performed much better. The blitzes that had a telegraphed feel to them in Week 1 against South Dakota State seemed perfectly timed and well-disguised against the Horned Frogs.
It's not a particularly fast defense — nobody could run down South Dakota State's Zach Zenner on his 99-yard touchdown run — and not particularly big, but it's an opportunistic one and that can feed on itself.
"We can't have guys waiting in the back seeing if things are going to happen," senior defensive end Toben Opurum said. "If you're around the ball, good things can happen."
Campo constantly preaches finishing plays by forcing turnovers.
"He'll tell you himself that's the biggest factor in most games that are played," Opurum said. "So far, we're doing a good job of that, but there are still plays we're making where we're leaving more turnovers on the field."
Head coach/offensive coordinator Charlie Weis, whose personality and coaching style more closely resembles that of smart-aleck psychologist Bill Parcells than cold-blooded tactician Bill Belichick, clearly played the Rodney Dangerfield angle with his players and it stoked them into putting forth a competitive effort against TCU.
The Horned Frogs expected to roll to an easy victory, right?
"I'm sure they thought that," Opurum said. "They saw what we put on film in the past and the scores of the games in the past and we lost at home at Rice. Any team can figure they're going to come roll through us, but we're a lot tougher than that and we're going to make sure we continue to improve and get some wins."
Credit Weis with making the players believe in themselves after a potentially crippling loss at home to Rice. Here's guessing Weis pulled that off with a little more creativity and depth than simply telling his players to "believe" and backing that up with an acronym that spells the word.