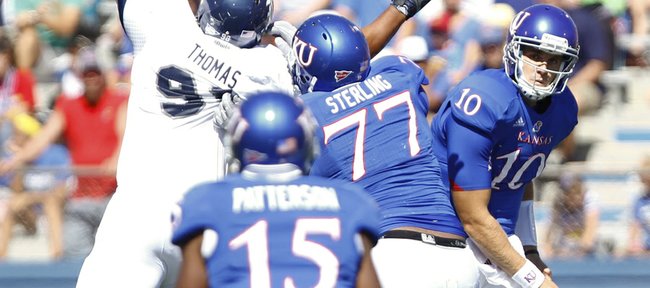 Kansas University senior Daymond Patterson didn't hide his frustration when asked how he would grade KU's receivers through two games this season.
"For our standards, I would say below average ... well below average," the wideout said, "because I know what kind of receivers we can be, and I know how we've performed throughout camp and spring ball."
The statistics so far have been disappointing for a KU receiving unit with three senior starters.
The Jayhawks are averaging just 4.9 yards per pass attempt, which is tied for 119th out of 124 teams.
KU also has just two passing plays of 20 or more yards; only five teams in all of Div. I have fewer 20-plus-yard passing plays than that.
"I wouldn't say I'm very happy with the passing game right now. To say that might be an understatement on my part," KU coach Charlie Weis said. "But I do believe that the passing game has a lot of room for improvement. I think that it better come on in a hurry, because the better your opponents are each week, you're going to need to score more than 24 points."
So what are the issues?
Patterson believes, for one, that KU's receivers are still trying to get timing down with transfer quarterback Dayne Crist in a new offensive system.
"We've been together, as far as winter, summer, spring and stuff, but we've only had two games," Patterson said. "Games are a lot different than going against the guys you go against every day, because you know people's tendencies. So we're just trying to get familiar with each other in live action."
Crist admitted earlier in the week to playing a bit tight, and Patterson has sensed the same nervousness in receivers as well.
When that happens, Patterson believes it's tougher for receivers to go make plays.
"You don't play up to your abilities, because you're worried too much about not messing up and being perfect," Patterson said. "You're never going to be perfect, so you might as well go out there and have fun and let the game come to you."
Video sessions have been the most frustrating part for Patterson, as he sees all the little mistakes that shouldn't be happening.
"There have been a lot of plays that, you watch film, and you just wish you could get back," Patterson said. "Run your route a little different, stick them a little harder, block this dude one more second and the running back springs. Like coaches say, you don't know whether it's going to be the third play of the game or the 57th play of the game that will win or lose you the game."
KU threw for just 144 yards on 28 passing attempts in last week's 25-24 loss to Rice.
Following an injury to senior receiver Kale Pick in the first half, KU's wideouts appeared to have trouble getting open for Crist. That included a critical fourth-quarter interception with 3:47 left, as Crist scanned the field for six seconds before attempting a jump-ball throw for Chris Omigie.
"I think we are getting separation — not the way we would want to, but we are getting separation," Patterson said. "We just have to do it more consistently."
Pick's leg injury (he's officially listed as day-to-day) could open up some playing time for backups like Omigie and sophomore Andrew Turzilli.
Neither player has a catch this year. In fact, only three KU receivers (Pick, Patterson and D.J. Beshears) have recorded receptions this season.
"We feel like this week's a very big week for us," Patterson said, "to prove that we can be the guys to help this team move forward."