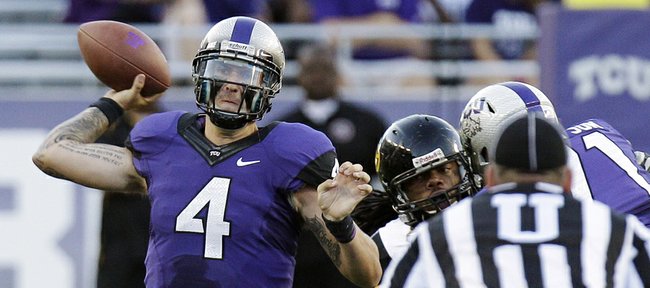 When TCU quarterback Casey Pachall took the field for last week's season opener against Grambling State, he did so under a little pressure.
As a first-time starter in 2011, Pachall set TCU single-season records for completions (228), completion percentage (66.5) and passing yards (2,921) and finished 12th nationally in passing efficiency with a 157.98 rating while tossing 25 touchdowns and seven interceptions.
This offseason, what he would deliver for an encore weighed heavily on the minds of many, especially considering this was the season the Horned Frogs were to begin playing with the big boys on a weekly basis as new members of the Big 12 Conference.
After a lot of wondering and waiting, Pachall's first game finally came. Nine passes and two quarters into it, he earned a seat on the bench. The reason? He completed all nine for 201 yards and three touchdowns while helping TCU build a 42-0 halftime lead.
Never one to overhype a performance, TCU coach Gary Patterson played down Pachall's numbers earlier this week.
"I always judge quarterbacks on Saturdays," he said. "And he's played one game out of 12 so far. He ran the offense he needed to. Our offensive line gave him time, and anytime you get time as a quarterback, it's a lot easier to be effective. We were very pleased."
Kansas coach Charlie Weis came away a little more impressed.
"Here you've got a big, strong, physical quarterback who's very accurate and has a strong arm and has some good weapons around him," Weis said of the 6-foot-5, 226-pound junior from Brownwood, Texas. "He does a very good job of managing the game (and) getting the ball into the players' hands."
Because of his versatile skill set, Pachall figures to provide a stiff test for all areas of the KU defense when the teams square off at 11 a.m. Saturday at Memorial Stadium.
Senior defensive end Toben Opurum said Pachall's experience — he's now two years removed from backing up current Cincinnati Bengals starter Andy Dalton — makes him dangerous.
Junior linebacker Huldon Tharp said the Jayhawks would have to be assignment-sound to slow Pachall down, sliding into passing lanes and forcing him to put more air under the ball to give KU's defensive backs a fighting chance.
And defensive coordinator Dave Campo said Pachall's supporting cast of fast and talented wideouts, led by "front-line" junior Josh Boyce, added to the problem.
"Somehow, you have to get him off his mark," Campo said. "But the option attack and the zone read limit some of the stuff you can do. So you kind of have to pick and choose. He's a good enough player that you can't just sit there and cover."
On the surface, Pachall looks more like a roadie for a heavy metal band than a Big 12 quarterback. But his 2011 stats and 2012 start prove that he can play the position. Ever the motivator, Pachall's coach said he needed to see more — somehow.
"Last year was last year," Patterson said. "Now he has to prove it all over again."
Lubbock on the mend?
The status of a handful of injured Jayhawks, including starting safety Lubbock Smith, continues to be uncertain as Smith, Kale Pick and Brandon Bourbon have spent much of the week getting treatment and riding exercise bikes at practice.
"All the guys who are injured are day-to-day," Campo said after Wednesday's practice. "My experience has been if a guy doesn't practice he doesn't play very well."
One player who could prove that theory wrong is linebacker Anthony McDonald, a fifth-year senior who may play his first game as a Jayhawk on Saturday.
"He's come out and done well," Campo said. "You can tell that he's experienced. That's an example of a guy that hasn't practiced, but at least he's a fifth-year guy. He's seen plays, and he reacts pretty well. I don't know how much he's gonna play this week, but he is one that could go out on the field and not embarrass himself."
More like this story on KUsports.com