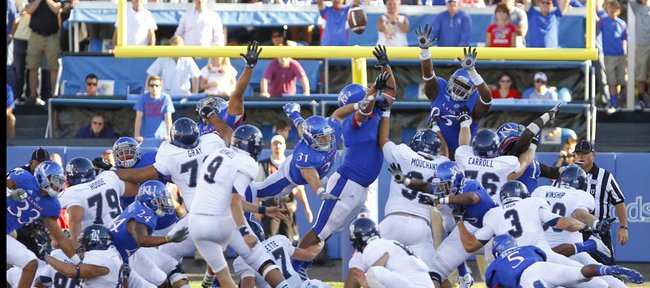 KU-Rice
Videos
KU coach Charlie Weis postgame: Rice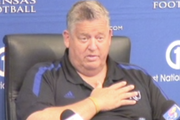 KU coach Charlie Weis' postgame comments following his team's 25-24 loss to Rice on Sept. 8, 2012.
Podcast episode
KU coach Charlie Weis talks after his team's 25-24 loss to Rice on Sept. 8, 2012.
About 30 minutes after the final horn sounded on Kansas University's 25-24, fall-from-in-front collapse against Rice on Saturday at Memorial Stadium, KU senior Daymond Patterson sat with a bag of ice on his hand, a slight shrug in his shoulders and a stunned look on his face.
One by one the questions came, and Patterson did his best to answer them.
"What went wrong?" "Why did the offense struggle so much in the second half?" "Where do the Jayhawks go from here?"
In the middle of one inquiry, the roar of motorcycle engines came from Patterson's phone in his pocket. That was his ring tone, and on the other end was former KU teammate AJ Steward, now a graduate assistant at Rice.
"Look who's calling," said Patterson, unable to hide his laughter even though all he wanted to do was scream.
The phone call was no surprise. The loss was. And with that came the beginning of what figures to be an interesting ride.
"This is a new challenge," KU coach Charlie Weis said. "Because now it's, 'Let's see what they're gonna do after they lose a game like this.' Am I gonna have people throwing in the towel, or am I gonna have more people stepping up to try to make it right?"
KU (1-1) had plenty of opportunities to make Saturday's outcome right but failed to capitalize each time. The offense was shut out in the fourth quarter, the defense missed a few crucial tackles in situations that would've changed — if not iced — the game, and the field-goal team connected on just one of three attempts, missing from 53 and 40 yards. In a one-point loss, when failure in any area is magnified, hiccups in all of them proved catastrophic.
"All three elements of our team had an opportunity to win the game, and we didn't, and therefore all three failed," Weis said.
After overcoming a slow start, the Jayhawks took the upper hand with a 29-yard field goal from Ron Doherty and a touchdown pass from quarterback Dayne Crist to tight end Jimmay Mundine late in the first quarter.
KU's 10 unanswered points turned a 3-0 deficit into a 10-3 lead. After a one-yard TD plunge from freshman linebacker Schyler Miles late in the first half, KU maintained its lead at 17-10 and, later, expanded it to 24-13 on an eight-yard run from junior running back Taylor Cox. Cox's TD run came on the first drive of the third quarter and capped a swift 75-yard march.
A crowd of 44,683 saw the Jayhawks, who finished with 195 yards rushing and 339 yards of total offense, manage just 100 yards the rest of the way, including just seven combined yards on their final two drives.
"We had some untimely penalties, we had some bad plays where we had losses and didn't move the chains, and that really hurt us," said Patterson, who led KU with 55 yards on seven receptions. "Football's a game of momentum, and you just have to have that swagger, just knowing that you're better than that other guy. Somebody has to make a big play to get the team going again, and we didn't have that, especially on the offensive side in the fourth quarter."
While the Jayhawks struggled to make plays, Rice started cooking. First came a 93-yard drive that tailback Charles Ross capped off with a two-yard TD run. A couple of drives later, Rice cornerback Bryce Callahan intercepted Crist for the second time to set up the Owls with a first-and-10 at their own 47, down two, with 3:47 to play.
The fact that KU still had the lead was the result of a solid play from senior linebacker Tunde Bakare, who tied for the team lead with nine tackles. Bakare's hit in the back of the end zone on the two-point attempt that followed Ross' TD run forced tight end Luke Wilson out of bounds and kept the Jayhawks in front.
But Callahan's second interception quickly followed, and the KU defense then misfired on a couple of must-make plays. The first came on a fourth-and-four near midfield. After Rice quarterback Taylor McHargue fired a swing pass to tight end Vance McDonald, two Jayhawks had a shot at a tackle before the first-down marker, but both Dexter Linton and Greg Brown overran the play, and McDonald plowed ahead for seven yards and a first down.
"We had an opportunity to end the game," senior defensive end Toben Opurum said. "The game's over if we make that play."
Three plays later, on a third-and-seven from the KU 37, McHargue escaped what seemed destined to be a massive hit by defensive end Josh Williams for no gain and instead scurried for 12 yards and a first down.
That made Chris Boswell's 45-yard game-winning field goal try seem a lot more manageable, and after KU called timeout to ice him, Boswell nailed the kick.
"I give it to Rice," senior cornerback Brown said. "They competed 'til the end."
That, more than the loss even, was the most disappointing part of Saturday's setback for Weis. He knew what he was stepping into when he took this job last December, and he did not believe for a second that he would be able to walk in, wave a magic wand and send the KU faithful home smiling night after night. He did, however, expect to put a product on the field that would compete from start to finish.
"The No. 1 thing they have to understand," Weis said. "is it's not OK to lose. It's not OK to lose a close one. It's not OK. We're supposed to win games, not play close games."
More like this story on KUsports.com