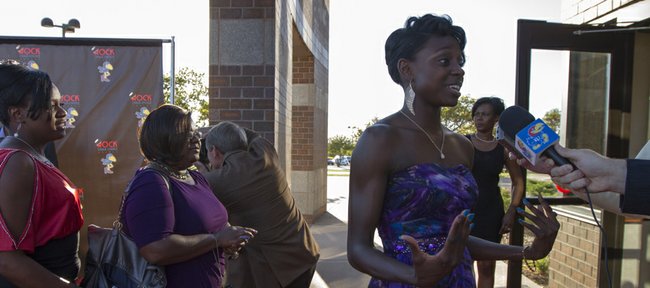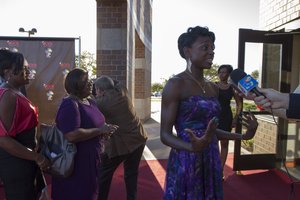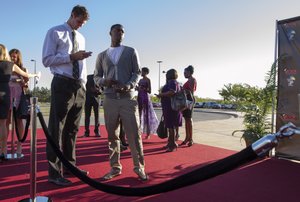 Thomas Robinson, the No. 5 overall pick in the 2012 NBA Draft, and Diamond Dixon, U.S. Olympic gold-medal winner in the 4x400 relay last month in London, claimed Kansas University men's and women's 2011-12 athletes of the year during Sunday's Rock Chalk Choice Awards at Lied Center.
"I am excited. I was excited when I found out about this. Tyshawn (Taylor) told me we were nominated. I was in town, and it's another good reason to be here," said the 6-foot-10, 240-pound Sacramento Kings rookie.
"I am still overwhelmed by it and everything that happened with it, how far we went," Robinson added of his junior year in which he earned first-team All-America honors after helping KU advance all the way to the NCAA title game. "My teammates are amazing. I miss those guys every day. I'm happy with last year and how it went and glad to be back (for several days)."
Robinson, who defeated Taylor and track sprinter Michael Stigler, was joined at the hourlong show — which had an Academy Awards-type format to it — by basketball teammates Christian Garrett, Elijah Johnson, Jordan Juenemann, Ben McLemore and Jeff Withey and assistant coach Kurtis Townsend. They all accepted the "Rock Chalk Moment of the Year" award. KU's home overtime victory over Missouri beat out baseball's home victory over Kansas State, women's basketball's win over Delaware to reach the NCAA Tournament Sweet 16 and tracksters Dixon and Andrea Geubelle winning NCAA Indoor track titles.
Robinson has been working out the last several days in Lawrence in preparation for the start of Kings training camp.
"Ground zero again," he said of how he's approaching being a rookie. "I'm starting back from ground zero, and we'll see where we're at the end of the year."
Meanwhile, Diamond Dixon begins her junior year at KU coming off her gold-medal-winning effort in London.
"The year was great. I have a lot more work to do," Dixon said.
She beat out athlete-of-the-year candidates Geubelle, Paris Daniels (track), Maggie Hull (softball) and Ingrid Vidal (soccer).
"I won (NCAA) Indoors last year (in 400) and didn't do so well at nationals outdoors," Dixon said. "It gives me a lot of strength to do better this year. This year is going to be a great year for us. We've got a lot of new and good people, and we're ready to rock it."
Of the Olympics, she noted: "It was nothing but an amazing experience. It basically set me up for what I need to do this year and the rest of my track career. It was awesome, hanging out with the Jamaican team the whole time. I bonded with (U.S. sprinter) DeeDee Trotter."
Also at the Lied Center ...
• Women's basketball guard Angel Goodrich won the Jayhawker Award, presented to the athlete who "exhibits commitment to our principles, demonstrates mental toughness in the face of adversity and competition while making a positive contribution to Kansas athletics."
• Softball player Leah Daiber won the Best Jayhawk in a Supporting Role award presented to an athlete "who demonstrates extraordinary sportsmanship, support and loyalty to teammates and Kansas athletics."
• Football player Anthony Davis won the Crimson Climb Award, presented to an athlete "who has served as an inspiration by overcoming challenges and exceeding academic expectations."
• Trackster Geubelle won the True Blue Award, presented to an athlete who "demonstrates an ability to excel in academics and athletics while advancing Kansas athletics on campus and in the community through participation in various student organizations and community service projects."
• KU volleyball claimed back-to-back honors by posting the highest team GPA and also won the CHAMPS competition based on participation in personal development, community outreach, team GPA, Jayhawks Supporting Jayhawks, Student-Athlete Advisory Committee (SAAC) and Jayrock.
The awards show, hosted by sports broadcaster Gary Bender, started with a special opening number highlighting the athletic accomplishments of the previous year.