KU-Rice
Videos
KU coach Charlie Weis postgame: Rice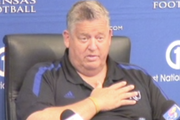 KU coach Charlie Weis' postgame comments following his team's 25-24 loss to Rice on Sept. 8, 2012.
Podcast episode
KU coach Charlie Weis talks after his team's 25-24 loss to Rice on Sept. 8, 2012.
A jubilant group of Rice University football players lifted placekicker Chris Boswell into the air after the Keller, Texas, junior's game-winning, 45-yard field goal split the uprights as time expired in the Owls' shocking 25-24 victory over Kansas University on Saturday at Memorial Stadium.
Boswell, who has converted a school-record six field goals of 50 yards or more, shook hands with a stunned group of KU players, conducted an on-field interview with Fox Sports Net sideline reporter Jim Knox, hugged some fans, then headed to the interview room with a pair of teammates and head coach David Bailiff.
"It still hasn't really set in yet. I'm sure it'll settle in once we get on the plane. Right now, it doesn't seem like (I hit) it," said Boswell, who made a 53-yarder in last week's 49-24 season opening loss to UCLA in Houston.
Boswell — he had field goals of 47, 29, 29 and 45 yards Saturday — showed poise in hitting his game-winning 45-yarder twice.
KU called timeout just before he made contact with the football on his on-target 45-yarder with 17 seconds left. Rice elected to run a play and run down the clock before calling timeout with four seconds left.
Boswell connected once more, again from 45, setting off a wild celebration on the Rice sideline.
It marked the Conference USA member Owls' first victory in 21 tries against a Big 12 team since the formation of the Big 12 in 1994.
"I had an idea they were going to ice me," Boswell said. "I was still going to kick it regardless. Klein (Kubiak, holder) does a great job every single time getting the ball down for me to kick it. Our line is just phenomenal. I just kick it the same every time.
"It doesn't annoy me or worry me at all," he added of being iced by the opposing coach. "It's the same kick every single time. It helps me a lot when I am on the sideline, and they (teammates) are telling me I can do it. Everyone has so much confidence in everybody it helps your own confidence. It's a good feeling."
Down by just two points after finishing a 93-yard drive with a TD at the 4:47 mark (a two-point conversion pass failed), Rice earned a final possession when Bryce Callahan pulled down an interception of a Dayne Crist pass at the Owls' own 47 with 3:47 left.
"I came up to 'Bos,' and he said, 'Just get us to the (KU) 45.' We got that and then some," said Rice quarterback Taylor McHargue, who advanced the ball to the KU 27 in eight plays. Included was a huge seven-yard completion to Vance McDonald on a fourth-and-four call from the KU 47.
"With the confidence we have in our defense and kicker, there was never a doubt we could come back (from 11-point deficit early in third quarter)," added McHargue, who completed 23 of 35 passes for 236 yards and one interception. He also rushed for 18 yards off 12 carries.
Bailiff had a strong feeling the Owls would win following the late interception.
"To know we have a kicker like Chris Boswell ... we just knew we needed to get to the 40," Bailiff said. "He's pretty smooth."
Bailiff said he was thrilled his team could attain the nonconference victory.
"To go on the road against a Big 12 opponent and to come out of here with a win ... we're just ecstatic as a program," Bailiff said. "We too are trying to build a program that wins consistently. I think something we talked about is that we've needed to win a big one on the road. We've (now) done that. I was so proud of this team."
"I thought we played with unbelievable passion for four quarters," Bailiff added. "We had three turnovers that first quarter. I didn't see anybody after a turnover with their head down. It strengthened our resolve to get this done today."
Rice (1-1) will travel to play Louisiana Tech on Saturday.
More like this story on KUsports.com