KU-Rice
Videos
KU coach Charlie Weis postgame: Rice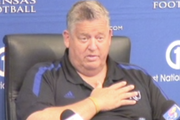 KU coach Charlie Weis' postgame comments following his team's 25-24 loss to Rice on Sept. 8, 2012.
Podcast episode
KU coach Charlie Weis talks after his team's 25-24 loss to Rice on Sept. 8, 2012.
Two games into the 2012 season, Kansas University's football team already has identified what could become a major problem: kicking.
Not only have the Jayhawks struggled to kick the ball deep on kickoffs, but they also have connected on just two of five field-goal tries.
Although none of junior place-kicker Ron Doherty's misses directly cost the Jayhawks a game, a make on any of them would have gone a long way toward making things easier for KU coach Charlie Weis and company. On Saturday, a make on either miss (53 and 40 yards) might have won the Jayhawks the game.
Instead, Rice pulled off the come-from-behind stunner, and the Jayhawks were left to ponder what comes next.
"I'm concerned with the offense, I'm concerned with the defense, I'm concerned with all the special teams," Weis said after Saturday's 25-24 loss. "They all mean the same to me. Do I want to make field goals? You betcha I do. Is that a concern? You betcha that's a concern."
Neither Weis nor any of his players put the blame for Saturday's setback on Doherty's foot.
"Missed field goals for any team always hurts," senior Daymond Patterson said. "But he shouldn't have been in some of the positions he was in. If anything, the field goals should've been a lot closer."
Part of Weis' worries about his kicking game coming into the season came from putting too much responsibility on Doherty, who also serves as KU's punter. After allowing Doherty to handle kickoffs in the opener, Weis turned to newcomer Nick Prolago for that role Saturday. Right away, the sophomore from Olathe delivered, bombing the opening kickoff eight yards deep into the end zone for a touchback. The rest of Prolago's day was merely average, but Weis said he liked the way Prolago responded to the opportunity.
"Well, it was nice to start off the game with a touchback," Weis said. "I think for his first game out there, we actually had an improvement at the kicker position in our kickoff coverage."
Razzle dazzle
For the second straight week, Weis threw a little excitement into the gameplan early. But after connecting on a 43-yard trick play to Kale Pick on the first play of the season, things did not go as well in Week 2.
After starting in the "Jayhawk" formation and opening KU's first offensive series with a direct snap to tailback Tony Pierson, the second snap again went to Pierson, who quickly handed it off to Patterson. Instead of running with it, Patterson flipped it to quarterback Dayne Crist, who braced to deliver a bomb to Pick flying down the field. Crist was hit as he threw, the ball fluttered in the air, and Rice cornerback Bryce Callahan picked it off near midfield.
"I was really disappointed," Weis said. "When you call a special play early in the game and you give up pressure on a play that there's no way there's pressure that comes, it's really disappointing. The worst thing that should happen is a long foul ball. But I thought the team responded nicely."
Said Crist of the opening pass: "It was a trick play. There was some pressure. I thought I could get it off, and I didn't really see that guy coming. It looked like (Pick) was even with the guy so I thought we'd have a chance to connect, and obviously that wasn't the case."
Mundine on the mark
Sophomore tight end Jimmay Mundine's first-quarter touchdown grab was his first of the season and the second of his career. Mundine finished with three catches for 39 yards and, each time, seemed to find a way to use his 6-foot-2, 243-pound frame to move defenders a couple of extra yards.
Crist said he had become comfortable looking Mundine's direction.
"Jimmay's always striving to improve and get better," Crist said. "And, within the reads today, he made himself very available."
Pick injury unknown
After hauling in a 12-yard pass for a first down early in the third quarter, Pick had to be helped off the field and did not return.
The senior from Dodge City finished with two catches for 22 yards and could be seen trying to work out the injury to his left leg on the sideline throughout the rest of the game.
"I have no idea," Weis said when asked how badly Pick was hurt. "When he was trying to get off the field in a hurry at the end of the game after the alma mater, I told him to slow down, I know that. But I'll have a better idea tomorrow."
Several Jayhawks said Pick's absence hurt the offense's rhythm.
"It's unfortunate, and we wish Kale the best," Crist said. "No one's rooting harder for him than I am."
Senior safety Lubbock Smith and junior Prinz Kande also were injured Saturday.
This and that...
The Jayhawks won Saturday's opening coin toss and elected to defer their choice to the second half. Rice chose to receive the opening kickoff. ... Tony Pierson (19 carries for 120 yards) topped the 100-yard mark for the second straight week. ... Kande made the first start of his career at outside linebacker. ... Red-shirt freshman Jake Love served as the team's fourth captain after being voted by KU's coaches as the top special-teams performer in Week 1. ... Temperature at kickoff was 72 degrees, under sunny skies with winds of 12 mph out of the northwest.