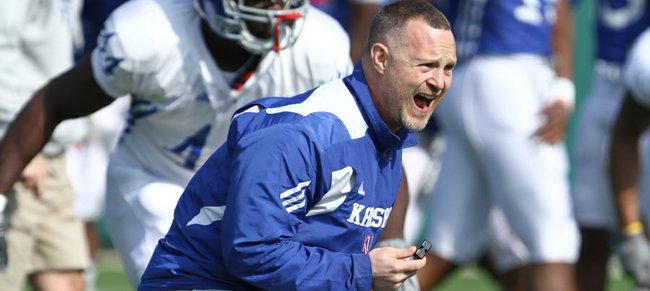 The instructions were clear and the tone plenty serious.
Last winter, not long after being hired by head coach Charlie Weis, Kansas University strength-and-conditioning director Scott Holsopple received a phone call from one of his new players who was running late.
"Hey, coach, I ran into traffic here. There's a basketball game going on. I don't know if I can get to training table," said Holsopple, recalling the opening lines of the phone call.
"Where you at?" Holsopple asked.
"Oh, I'm about a mile away," the player said.
What came next was the kind of answer the Weis regime was built upon — a no-nonsense, save-the-excuses, roll-up-your-sleeves-and-get-to-work response that, at first, was as foreign to the Kansas players as Mandarin Chinese.
"Park and run," Holsopple told him. "That's why I train you. Go run."
That phone call, for that player, was the introduction to Toughness 101, a new class taught by Holsopple and graded by Weis that, in a matter of months, would become a staple of the new-look KU football program.
"It's really a reflection of his personality," said tight ends coach Jeff Blasko of Weis. "He's as tough of a human being as you'll run into."
In the months that followed, the Jayhawks learned the ins and outs of toughness, that invisible ingredient that all good football teams have and most bad ones lack. Weis said he was pleased with how tough his guys played after last week's 31-17 season-opening victory against South Dakota State, but the examples he used to prove it were more mental than physical.
"It has nothing to do with how big you are, how strong you are, how fast you run," Holsopple said. "It has to do with your heart. Do you have enough heart to show up every day and are you mentally tough enough to battle no matter how you feel?"
Forget upgrading the quarterback or the defensive line. Forget the high-profile transfers or the impressive collection of assistant coaches he assembled. When Weis took the job, his top priority was to bring all forms of toughness to Kansas.
"From the very first team meeting he had to spring conditioning to spring practice to fall camp, the one thing he always said to 'em is, 'We are gonna be tough, we are gonna be physical,'" running-backs coach Reggie Mitchell said.
In some instances, adding toughness was a tangible act. Weis brought in three of his former Notre Dame players who measure off the charts in the physical-specimen category. Quarterback Dayne Crist looks more like a linebacker. Tight end Mike Ragone is a hard-nosed, New Jersey guy. And linebacker Anthony McDonald often functions like an assault weapon on defense.
Partly because of their frames and partly because of their backgrounds, all three ooze toughness.
So does defensive end Josh Williams, a 6-4, 255-pound senior who transferred to KU from Nebraska, where he made a couple of starts with NU's famed "Blackshirts" defense.
Their presence has helped. But while the Jayhawks who already were here now look and play tougher, Holsopple has made his mark on the newcomers as well. After Wednesday's practice, Williams said he believed Holsopple had added an edge to his game.
"He pushed me to a point that I haven't been before," Williams said. "I like that."
Added Blasko of Holsopple: "That's why coach hired him. That's what he's known for. That's what he is."
Realizing their new-found toughness came on different dates and in different ways for many on the KU roster. For some, it took the 99-yard touchdown run by South Dakota State's Zach Zenner in the season opener to prove things had changed.
"Right after that play happened, no one was really pointing fingers," KU sophomore middle linebacker Ben Heeney said. "We all just basically pretended it didn't happen and went to the next series."
Added Weis: "I thought we were nice, cool, calm and collected. We found out what the problem was and got it corrected. I don't think for one second that anyone thought, 'Oh, here we go again.' The fans may have thought that, but none of the players did."
For others, the final exam came long before the first game. Senior wide receiver Kale Pick recalls a day in late July.
"It was our final run test of the summer, and that's when I could tell we had gotten a lot tougher than last year," Pick said. "It was about 106 (degrees) out, and we had to go onto the turf. We had our best results as a team, and it was on the hottest day."
Toughness may not win football games. And there still may be a long way to go to determine just how tough this Kansas team has become. But all the Jayhawks can do is pass the test put in front of them each week and take the feedback readily available from Weis and Holsopple.
The toughness test this week? Seeing how the Jayhawks respond to winning.

"If I yell at you and tell you to stand up and run as hard as you can into that wall, you're gonna look at me and then you're in that position of what do you do next," Holsopple said. "Do you run to the wall? Did you hesitate? Did you not hesitate? Those are the things I'm looking at.... It's gonna be hard. That's part of the deal. It is hard. Life is hard. But you gotta keep the pedal to the metal and keep on driving. You won't break through the wall if you slow down."