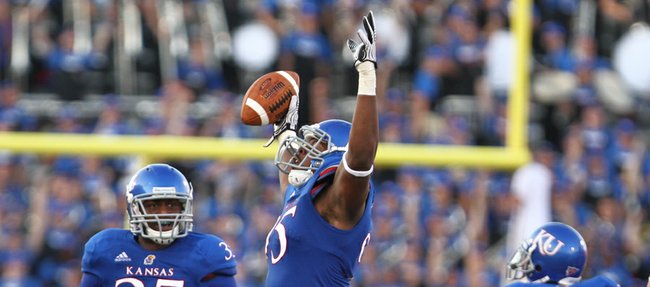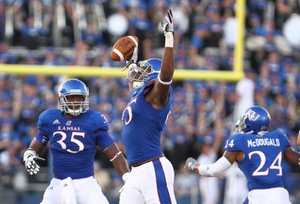 For a defense that recorded just 18 turnovers during the entire 2011 season, picking up five takeaways in one game, as Kansas University did in its season-opening victory Saturday, may seem a little bit like magic.
It wasn't.
"I think that's a direct result of what we've talked about all along," defensive coordinator Dave Campo said, "getting to the football and making sure we're around it because you never know."
During the 31-17 victory against South Dakota State, the Jayhawks hauled in four interceptions — two by senior safety Bradley McDougald — and a fumble. While the turnover total may have surprised some, the execution did not.
"We talk about it every day," said senior defensive end Josh Williams, who forced a fumble and recovered it on the same play.
The Jayhawks' stated goal for takeaways-per-game is two. They talk about in every meeting room, during every practice and in the moments leading up to every game. But what they like better than talking about it is seeing it.
"That tells us that they're listening to what we're saying," defensive line coach Buddy Wyatt said.
Although no one in a KU uniform said he expected five turnovers to become the norm, the fast start lifted the team's confidence.
"If you get five turnovers in a game, you can't ask for anything more than that," junior linebacker Huldon Tharp said. "Honestly, if you can get two or three in a game, you're happy."
Added McDougald, who enters this week's game against Rice tied for the NCAA lead in interceptions: "It was like a sense of accomplishment, some things were finally starting to pay off. It was definitely a great feeling, but that was Saturday, and now we're back to square one and another opponent."
Newcomers get time
The participation report from last week's game revealed that 12 newcomers — four true freshmen — played during KU's opener.
"There's more of them that we want to get into the game this week," KU coach Charlie Weis said. "But I think any time they can get 10 or 20 plays in there, first rattle out of the box, we're on our way to getting the butterflies out, now the next time out it won't be as big a deal."
Aslam Sterling (right guard), Mike Ragone (tight vend), Dayne Crist (quarterback), Williams (defensive end) and Jordan Tavai (nose tackle) all started, with true freshmen Tre' Parmalee (wide receiver) and Schyler Miles (linebacker) logging the most snaps off the bench.
Sorry, Jake
Even though BYU transfer Jake Heaps probably does a pretty mean impersonation of Taylor McHargue, Rice's dual-threat quarterback, don't expect him to be rewarded with any hardware.
Heaps, who is sitting out the season because of NCAA transfer rules, was KU's scout team offensive player of the week last week but does not figure to win the award again.
"I said, 'If you don't go down there and be the best player on scout team, then you and I are gonna have a problem,'" Weis said. "So I told him he only gets it once, and he got it the first week."
Freshman defensive end Tyler Holmes was named the defensive scout team player of the opening week.
Another KU connection
While it has been well detailed how many former Jayhawks are on the coaching staff at Rice, there exists another KU-Rice connection that extends to the playing field.
Senior linebacker Kyle Prater is the son of a Jayhawk. Prater's father, John, was an offensive lineman at KU from 1980-81.
More like this story on KUsports.com