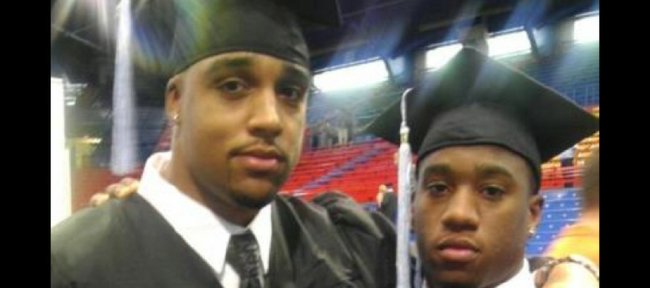 A little more than a year ago, they stood together as teammates with only a camera tripod and the rest of the Big 12 Conference as their enemies.
Today, it's a different story for Kansas University wide receiver Daymond Patterson and former KU tight end AJ Steward, a graduate assistant at Rice, as the former roommates, teammates and stars of the Internet reality show "DP and AJ Take On KU" will watch each other from opposing sidelines when the Owls face KU at 2:30 p.m. Saturday at Memorial Stadium.
"It's weird," said Steward, who remains close friends with more than half of KU's roster. "It's like playing against your little brother. You care about him a lot, and you wish the best for him, but you always have to hold your ground, and you can never let your little brother beat you."
Neither side is coming off a stellar opening-week performance. The Owls (0-1) were drubbed, 49-24, by UCLA in their opener, and the Jayhawks (1-0) let South Dakota State hang around into the fourth quarter before winning 31-17. But both games are in the past now, and, best friends or not, Steward said the past would not have much bearing on his preparation for this weekend's game.
"Some of my best friends are on that team," Steward said. "But, at the end of the day, I'm a competitor, and I want to win. I don't plan on talking any smack. We're all good friends. Me and DP will have our words, jokingly, but I always wish the best for those guys."
For the most part, the feeling seems mutual.
"You know how me and AJ are," Patterson said during the preseason. "We've been talking back and forth, and he's been joking around saying that he knows everybody on the team so he's gonna have a master gameplan. But the one thing holding him back is we have a whole new offensive coaching staff."
Steward's journey to Rice came out of nowhere. Several months back, when he was driving home to St. Louis and growing increasingly frustrated that he had gotten little feedback from the schools he sent résumés to, his phone rang.
"I'll never forget it," Steward said. "I was in my car, and (former Jayhawk and current Rice assistant) Adrian Mayes gave me a call and asked me if I knew anyone looking to become a graduate assistant. It was just perfect timing and an amazing blessing."
Steward is not the only Jayhawk on the Owls' coaching staff. Former offensive line coach John Reagan is the Owls' offensive coordinator, and Mayes and Ryan Cantrell, both offensive linemen at KU from 2005-08, are GAs with Steward.
"It's going to be fun seeing all of those guys," Patterson said. "I'm just happy that AJ got on because coaching was something he wanted to do, and it all just fell the right way. He's going to do well down there, and I'm looking for him to move up really fast because he is an awesome coach and coaching is definitely a passion of his."
Steward said he never checked Rice's 2012 schedule during the interview process. However, once he became an official member of the staff, he took a peek and saw the words September 8 and Kansas.
"It was kind of overwhelming," Steward admitted. "I was just like, 'Wow. On top of this great opportunity, I get to go back and play against my alma mater the first year I'm out.' I'm definitely ready. It did come fast, but I'm really excited."
Defense on track
Monday morning on the Big 12 coaches teleconference, KU coach Charlie Weis shared what he thought was one of the most impressive parts of Saturday's victory.
"The No. 1 thing I was concerned about was how new a lot of these guys (on defense) are," Weis said. "And I thought, for the first game out, the number of busts on defense was at a minimum, which was very encouraging."
KU's defense surrendered 411 yards of total offense but also blocked two punts, recorded five turnovers and picked up two sacks while forcing five three-and-outs.
Crist critique
Also during the teleconference, Weis offered insight into how quarterback Dayne Crist responded to his first game as a Jayhawk.
"I think that Dayne was probably not real satisfied with how the game went," Weis said. "When our passing efficiency is under 50 percent, there's a number of factors, but I think there's a number of plays out there that we would expect more from him, way more completions and a much better efficiency rating than we had that game."
Lack of chemistry with the KU receivers and first-game nerves likely contributed to Crist's 17-of-36 showing in the opener. But Weis said he did not expect Crist to use any of those as an excuse.
"Every game, it has to do with all those things," he said. "But Dayne expects for us to be completing two-thirds of our passes, so when you complete 47 percent of the passes, regardless of whose fault it is, it still comes back on the shoulders of the quarterback."
KU early favorite
The Jayhawks opened as 6-point favorites over Rice this week, and by Monday night the line was up to KU minus-10.
More like this story on KUsports.com