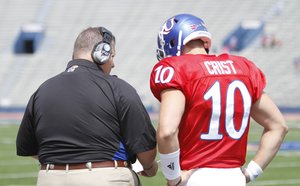 During his four seasons at Notre Dame, Kansas University quarterback Dayne Crist threw for 2,300 yards and 16 touchdowns in 10 starts.
So this whole leader-of-the-team thing is not exactly new for Crist, KU's prized offseason acquisition who became a team captain in four months and the face of the franchise overnight.
Throughout his career, and even after two knee injuries, the 6-foot-4, 235-pound pro-style QB controlled the huddle, took the heat, stared down defenses and did what he expected he always would. Then one day that all stopped. Benched after starting the season opener last September, Crist quickly became a Notre Dame castoff and went through his final season forced to wonder if he ever would play a meaningful snap again.
An unexpected reunion with the man who brought him to Notre Dame, in the most improbable of places, gave him that chance. And tonight, when Crist leads the new-look Jayhawks onto the field for the 6:06 p.m. season opener against South Dakota State at Memorial Stadium, he'll do so as a changed man.
"At the point that I'm at, this being my last year no matter what, you've kind of got a different sense of urgency," Crist said. "You realize this is all you have left. You cherish this time.... I haven't been this happy or this excited in a very long time."
The last start of Crist's Fighting Irish career came nearly a year ago. Since that day in South Bend, Ind., nearly everything the former five-star prospect knew disappeared. New role, new teammates, new zip code, new colors, new hope. Even though it has been 363 days since his last start, Crist said it seemed much longer.
"Forever," he said. "It feels like an eternity."
At the core of Crist's final chance is his relationship with KU coach Charlie Weis, a man who serves more as a trusted family friend than anything else. Throughout the past few years, Crist has made it clear what Weis has meant to him — first by signing with him out of high school, then by keeping in touch after Weis was fired, and, finally, by following him to Kansas. And, even though the colors and circumstances have changed dramatically, Crist finally seems to be living out the scenario he envisioned when he first signed with Weis as a high school senior.
"I think so," he said. "I'm happy to see where we're at and the adversity we've both overcome. But at the same time, we've got so much work to do that we're focused on what's ahead of us not where we're at."
That's what drives him. And the skills he learned from Weis at Notre Dame, nuances about playing quarterback that he said came back almost as soon as he set foot in Lawrence, are what have both coach and quarterback believing 2012 could be one heck of a swan song for Crist.
"Just the other day, there was an audible that we haven't run here, and he checked to it, and we ran for about 30 yards," Weis said. "No one on the team had ever had that discussion yet. Now, we've had it, but that was three years ago. It was good to see. They all knew the play he was running because they heard the name of the play before, but the fact that he can get you in it, that's important."
Crist said moments like that — there have been several — provide tangible proof at just how deep the bond between the two has become.
"It's been great being able to pick up where we left off," Crist said. "I'm never doing something that he hasn't green-lighted at some point, but he gives me a lot of responsibility, and that's something that I'm flattered to have. It just goes back to the relationship he and I have. Whatever he says, goes. I'm just working within the framework that he gives me."
It always was obvious that Weis was fond of Crist, but as the start of the season has drawn closer, Weis has delved deeper into the appreciation he has for his quarterback.
"Remember now, the kid hasn't had the best few years," Weis said. "Just when he's getting ready to be the man, the head coach gets canned, new system, you don't fit, and it didn't go so well. Now you're back into the same system that you did fit, with decent skill guys around you, with veteran offensive linemen in front of you, with a team that everyone thinks is gonna be crummy. That's a pretty good situation. How can he lose? There's only one way to go, and that's up, right?"
So far, Crist has refused to examine too closely what a big season could mean for him and his future.
"We're both just very excited," Crist said of him and Weis. "We're both very competitive, and I love being able to go to work with him every day. I'm so thankful to be here and be coached by him."
The feeling seems mutual, and whether Crist routinely lights up the scoreboard or not, it seems neither guy would change a thing.
"This could be a wonderful story, and I'd like to be writing it," Weis said. "And not for me, but for him. Because I'm a very, very big fan of the young man.... It would be a wonderful, wonderful thing if he had a really good year. Because (a) we would win more football games, but (b) because I wish nothing but good on the kid."