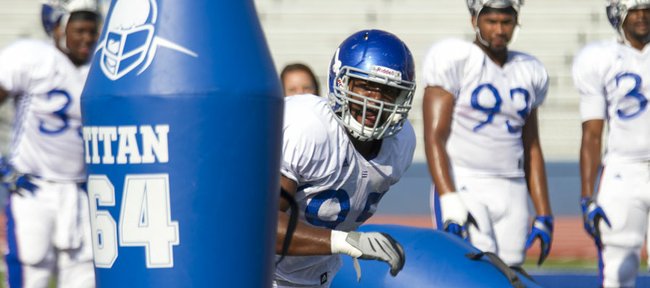 Some days, the objective is five sacks. Other days, it's six.
During practices this August, Kansas University's defensive linemen have put pressure on themselves to hit certain marks.
"We've been reaching those goals every day," KU sophomore defensive lineman Keon Stowers said. "I feel like we're going to get some sacks this year. I know we are."
The Jayhawks certainly didn't get to the quarterback enough a year ago when they recorded just 10 sacks in 12 games.
To put that in perspective, eight Div. I players posted more sacks than that in 2011.
"It's not good," KU senior defensive lineman John Williams said. "That's definitely what we don't want to do this year."
Combine KU's sacks from the last two years (24), and the Jayhawks still wouldn't have ranked in the top half of Div. I in the statistic last season.
The Jayhawks' 0.75 sacks per game also ranked 118th out of 120 teams.
"From what I saw last year, obviously it's not anything hidden. The defensive line really wasn't that good, and they really didn't have that good of a pass rush," Stowers said. "But bringing in guys like (Jordan) Tavai and like Keba (Agostinho) moving from defensive end to three-technique (defensive tackle), it really has helped our pass rush out tremendously."
Stowers pointed to the team's speed as reason to be optimistic in 2012.
That includes the addition of Josh Williams, a Nebraska transfer who should help bring pressure off the edge.
"Every time he puts his hand in the dirt, he's going hard," Stowers said, "and I admire guys like that."
Toben Opurum, who is in better shape than he was a year ago, also returns after posting four sacks in 2011.
The senior is the only player on KU's roster with more than one sack in his Jayhawk career.
"Somebody has to win the one-on-one. There are going to be opportunities," Josh Williams said. "Someone has to get to the quarterback, and I think we've got guys that can do it."
KU defensive line coach Buddy Wyatt believes his team has improved its pass rush most on the interior.
Agostinho and Tavai both provide the Jayhawks with better speed than they've had in years past.
"Sacks ... that's great. That's the ultimate prize. That's what you want. But hurries, batted balls ... those things are just as important or just as critical for us to set that offense back," Wyatt said. "We're looking to just put a lot pressure on the quarterback, making him throw before he's ready."
If that additional heat comes, it would take some pressure off the rest of the Jayhawks defense.
KU safety Bradley McDougald said his heart "warmed" after seeing all the new players showing up this summer as defensive linemen.
"It's been really great to bring guys in and be a part of this unit that's going to shock the world this year," Stowers said. "I don't care what the critics say. Everybody's got us last in the league. We're going to show them."
More like this story on KUsports.com