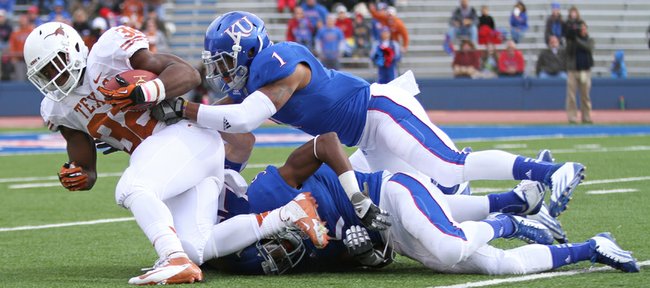 Five games into his first run through the Big 12 Conference football schedule, Kansas University defensive coordinator Dave Campo has upgraded the Jayhawks' defense despite facing some of the nation's most potent offenses week after week.
However, the Jayhawks' noticeable improvements on defense have not necessarily been an indication that things have been easy for Campo.
"It's harder," said the longtime Dallas Cowboys coach when asked if working in the Big 12 was what he expected. "After spring football, I thought, well, we'll be all right. But it is tougher."
For Campo, harder has not meant less enjoyable. In fact, 65-year-old Campo has approached each week with the spunk of a much younger man, rejuvenated by his return to the collegiate level and the chance to truly teach again.
"I'm learning every day," Campo said. "That's one of the reasons I took the job. I think it's good for a guy my age to keep learning, and I'm learning every day."
KU coach Charlie Weis often has talked about how the Big 12 brings new challenges for the offense and defense to tackle each week. But it's no secret that, with eight of the league's 10 schools currently ranked among the country's top 50 teams in total offense — and five of them holding spots in the top 20 — things have been considerably more challenging for Campo and crew than the rest of the squad.
Despite the seemingly endless string of high-powered offenses lining up across from him, Campo actually has improved the Kansas defense little by little each week. Two weeks ago, as KU went into its match-up with Oklahoma, the Jayhawks were ranked 91st in total defense. Today, as they prepare for Saturday's 2:30 p.m. road match-up with Baylor, which ranks third in total offense and leads the nation in passing, the Jayhawks rank 81st in that category. That's after taking on OU and Texas, which currently rank 20th and 38th, respectively, in total offense.
What's more, Big 12 offenses occupy seven of the top 13 positions in scoring offense, with five of them — K-State, Oklahoma State, Baylor, Texas and West Virginia — holding down spots five through nine.
"All I know is, (Oklahoma defensive coordinator) Mike Stoops said to me before the (Oct. 20 OU) game, 'Look, this is not a league to be a defensive coordinator in,'" Campo said with a laugh. "You know, it's a very explosive league, and that's why I have faith that we're making some progress, because there have been a couple of high-scoring teams that we've held down."
The KU defense gave up 20 points to both Oklahoma State and TCU and surrendered just 21 to Texas a week ago. Heading into their match-ups with the Jayhawks, Oklahoma State and TCU both averaged 56 points per game and Texas averaged 44.
From where Weis sits, such feats have been a huge accomplishment for his defense, even if figuring out how to achieve them each week has worn on Campo.
"Well, he's already past that gray-hair stage," Weis said. "So I think he's bypassed that one. But I think that he really loves the game of football. I can't say that he's enjoyed having to go against these (offenses) every week, but it really challenges you. It really challenges you to try to take your players and what they can do and try to figure out the best way to minimize what (opposing offenses) do. It's a challenge."
There is work to be done, Campo said, as the defense he works with today remains a far cry from what he envisions lining up in the future. But there are certain elements of his first KU defense — most notably, the effort — that Campo hopes will become a staple of the KU defense well into the future.
"This is a good group," he said. "I don't have any problem with this group. I really don't. Schemes and stuff like that kind of go away in the offseason. You have to redo a lot of stuff. But fundamentals and how to do certain things, that can carry over."