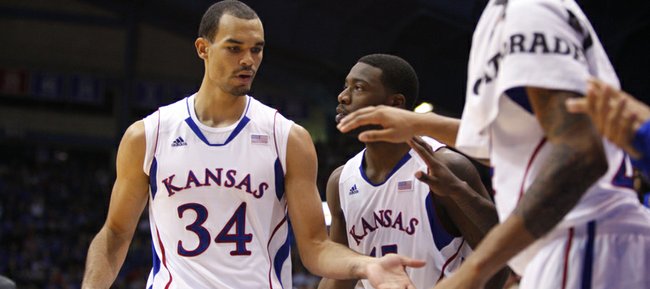 Photo Gallery
Kansas v. Emporia State (exhibition)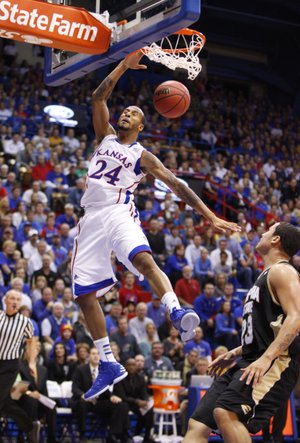 View images from Tuesday night's exhibition against Emporia State.
Podcast episode
KU coach Bill Self talks after his team's 88-54 victory over Emporia State on Tuesday, Oct. 30, 2012.
Podcast episode
KU freshmen Ben McLemore, Rio Adams and Landen Lucas talk after the Jayhawks' 88-54 victory over Emporia State on Tuesday, Oct. 30, 2012.
Box score
Kansas University freshman forward Perry Ellis, who didn't crack even the hint of a smile during his highly-productive major-college debut Tuesday night, insists he had a blast during the Jayhawks' 88-54 exhibition rout of Emporia State in Allen Fieldhouse.
"I don't really show much emotion, but I had a lot of fun out there, man," the 6-foot-8, 225-pound Wichita Heights graduate said after scoring 15 points off 5-of-5 shooting and 5-of-7 free throwing and grabbing seven rebounds in just 16 minutes.
"I mean we've got guys on this team who have been working hard since the summer. It was a lot of fun. I'm just happy to be out there," he added.
Ellis admits he was extra enthused playing his KU debut with his mom, Fonda, dad, Will, younger brothers Brae and Cameron, older sister, Savannah, AAU coach, Steve Young, and high school coach, Joe Auer, in the stands.
"It means a lot that my family gets to see me," said Ellis, who scored eight points and grabbed six boards the first half in helping KU to a 42-21 lead. "It's not too far (from Wichita). It's a great feeling they came tonight to support me."
While Fonda was proud of her oldest son — "great production I thought," she said — she was not alarmed at his lack of emotion during the debut.
"He's got that poker face. He'd be a good poker player," she said while watching Perry sign autographs in the northwest tunnel after the contest.
KU coach Bill Self, who considered freshmen Landen Lucas (nine boards, six points, 12 minutes) and Rio Adams (two assists, one point, one steal, 10 minutes) as "best players for us per minute" also gave a thumbs-up to Ellis.
"I thought he did well. He scores the ball easy," Self said. "He won't always go 5-for-5. He has such a nice touch on the ball. I still think he can be a lot more aggressive. We blocked one shot tonight ... awful. If he can become aggressive as far as mindset, he could be a really good player really early in his career."
Expanding on the aggressive mindset issue, Self added: "When you screen, screen hard. When you jump, jump as high as you can. When you go after balls, go with two hands. He's playing so much harder than he probably ever has. He plays hard, that's obvious. (But) you say, 'Jump' and he jumps higher after you yell at him, then he's not jumping. That's where a lot of our guys are. I don't think they know they can just let it go. That's not negative, just the way it is. Freshmen ... we had the same issue with (Brandon) Rush, (Mario) Chalmers, (Julian) Wright, the (Morris) twins. I just think he has so much more to give in impacting the game than what he thinks he can. I think he can be a really good player. We can't sell out for him just being OK."
Ellis knows he has work to do.
"Being aggressive is something you have to do in practice, work on going hard every possession on the court," he said. "It's something I have to work on in practice. You've got to have a tough mindset, work hard and do your best."
Elijah Johnson had 12 points, Ben McLemore 11, including two off a spectacular put-back dunk, and Andrew White III 10 for the Jayhawks, who next meet Washburn at 7 p.m. Monday, in Allen.