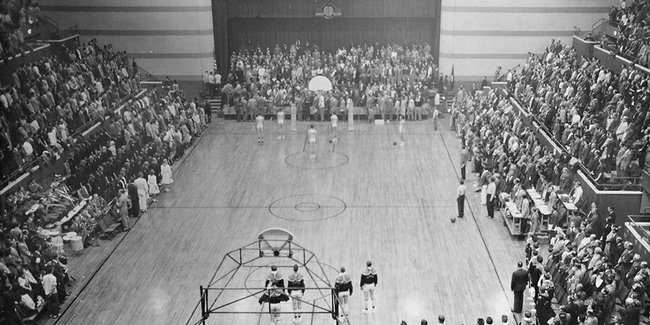 Gene Cusic only missed one game during his collegiate basketball career because of sickness.
Sixty-five years later, he wishes it hadn't been when his Emporia State Teachers College team defeated Phog Allen-coached Kansas University, 67-44.
That was Dec. 13, 1947, and it still stands as the last time Emporia State defeated KU in men's basketball.
"I didn't expect it to be lopsided," Cusic said from his Emporia home Monday. "We had a good night, and they didn't have such a good one."
Cusic, now 86, wasn't able to be a part of it. After playing in Emporia's game two days earlier at Drake, the 6-foot-3 guard/forward came down with a bad case of tonsillitis.
He was admitted to St. Mary's Hospital in Emporia, where he stayed for three days.
"I brought my radio up there so I could listen to it," Cusic said. "So I listened to the broadcast for Emporia down there. That's how I knew what the score was."
The 23-point defeat, at the time, was the fifth-worst in Allen's 29 seasons at KU.
The game also was played at Emporia's White Auditorium. The reason was simple, Cusic said: money.
Allen Fieldhouse was not yet built, with KU playing its home games at Hoch Auditorium.
"Emporia would seat a lot more than KU by far, so it was a financial advantage for KU to come to Emporia to play instead of Emporia going up there," Cusic said. "Now, they've got the Fieldhouse, and it's vice-versa."
Cusic remembers the KU game being a huge draw in Emporia.
"The auditorium down here was completely sold out. If you wanted a seat, you had to make reservations to reserve your seat before they ever opened the doors down here that night," Cusic said, "because all the fire department would let in, they had in that night."
Even then, the two teams were in different college divisions. KU competed in Div. I, while Emporia was a member of the NAIB (now called the NAIA). Emporia State finished fourth in the NAIB national tournament in Kansas City, Mo., the year before, losing in the semifinals to eventual champion Marshall (yes, that Marshall).
After defeating KU in 1947-48, Emporia went 20-7 before getting eliminated in the round of 16 by eventual NAIB national champion Louisville (yes, that Louisville).
Cusic was in uniform during Emporia State's game in 1946 against KU. Though he didn't play, he watched from the bench as the Jayhawks took a 48-42 victory at White Auditorium.
Cusic said the six-point loss that year was quite an accomplishment for Emporia State, as KU featured a lineup with first-team All-Americans Charlie B. Black, Ray Evans and All Big-Six player Otto Schnellbacher with the Hall of Fame coach Allen.
"I remember when I was in high school, (Allen) had written a book about basketball, and the principal had it in his office at the high school," Cusic said. "I thought, 'Boy, that's something.' Kansas coach, I'm reading his book.
"I had no idea I might be on the floor at the same time he was."
After growing up in Americus — a small town just north of Emporia — Cusic still lives in Emporia after retiring more than 20 years ago from his job as assistant principal at Lowther Junior High.
Cusic, who believes he's one of only three members of the 1947-48 Emporia State team still alive along with Meredith Litchfield of Manhattan and Hal McVey, said he plans to watch tonight's KU-ESU exhibition basketball game on television.
And though it's been 65 years since it last happened, he's not completely ruling out an ESU upset in the future.
"Catch them at the right time and there might be (another ESU win over KU)," Cusic said. "At the rate KU's going now, they won't for a while. They recruit pretty good material and have been for a number of years. They're pretty strong."
More like this story on KUsports.com