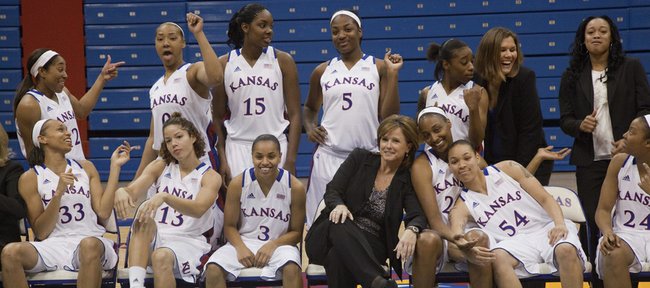 Raise your hand if you ever attended a women's basketball game at empty Allen Fieldhouse and went home feeling as if you had just watched a doubleheader between the Royals and some other tight-fisted non-contender on a hot day in late August.
You're not alone. But this is not that team. Not by a long shot. Those marathons felt like back-to-back-to-back-to-back episodes of "The Lawrence Welk Show." This year's will feel more like a two-hour sprint, a Pearl Jam concert.
Senior point guard Angel Goodrich, a 5-foot-3 passing sensation, electrifies any basketball game in which she plays.
If you swore you never would return or if you never have seen the Kansas University women's basketball team play a game, open your ears for the most revealing, most delightful quote ninth-year KU coach Bonnie Henrickson has uttered since coming here from Virginia Tech.
Asked what aspect of this team has the potential to be better than any she has coached, Henrickson didn't hesitate.
"I just think how much fun we'll be able to be in transition because of what Angel can do," Henrickson said. "That's what you guys love and I love the same thing. Bill (Self) and I talk all the time, 'Recruit players who can make plays so you don't have to run so many plays.'"
And now, for the portion of the quote that makes Bonnie Ball at least twice as enjoyable to watch as a few years ago: "Angel's cut my playbook in half. She has, which I love."
The women are looking forward to playing up-tempo basketball with Goodrich leading the charge.
"Let us off the leash and let us run," senior Monica Engelman said of the team's style of play. "As a point guard, Angel pushes the tempo and we have to get out and run with her. If she runs faster, then we have to run faster."
In Goodrich, Kansas has the most exciting passer in the nation. In senior forward Carolyn Davis, back from ACL surgery, the Jayhawks have as sure-handed a post player as anyone anywhere.
"It makes it easier when you can go point to post," Engelman said. "It makes it easier for a quick two."
The Goodrich-to-Davis battery has a Todd Reesing-Kerry Meier quality to it.
"It's very rare," Goodrich said of having a post player with such reliable hands. "I've had teams where I've had to put it in a certain spot so they can catch it, or throw it at a certain time so they can get their feet ready and lay it up. Carolyn, I can throw it anywhere and she can catch it. It's amazing to have that. Not many teams have that."
The brand of basketball and the talent on hand make this the perfect year to open the mind and give women's basketball one more try. It's time to give these talented basketball players the big audiences they earned with last March's Sweet 16 run.
More like this story on KUsports.com