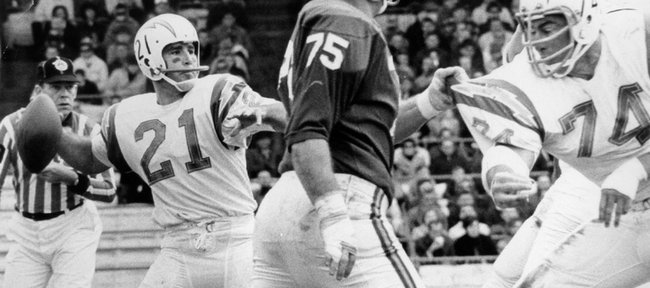 We all have our bucket lists, things we want to do before we kick the bucket. Playing golf with John Hadl, No. 21 for the San Diego Chargers who scrambled all over the TV set of my youth and then launched long bombs to Lance "Bambi" Alworth, ranked high on mine.
So when I saw Hadl in his Kansas University office on Wednesday afternoon, his normal golf time, my creaky wheels began spinning, rust and all. I asked Hadl why he wasn't golfing and he said he had a mandatory 3 p.m. meeting to attend. Opportunity had arrived. I shared with him the forecast for the next day and asked if he wanted to play a Thursday afternoon round at Lawrence Country Club, where he usually plays. He accepted and so did former KU linebacker Banks Floodman, who works with Hadl at the Williams Fund.
As long as I was there, I sat down on a comfortable chair and listened to him explain just how it was that an All-American halfback switched to quarterback, where he also earned All-American honors for Kansas.
Hadl said he watched Curtis McClinton and Bert Coan racing past him in practice and figured it was only a matter of time before they supplanted him, so he sought out Jack Mitchell, the coach who, as they went on a horse ride together, convinced Hadl's father that his son would be better served getting out of the verbal commitment he gave to legendary Oklahoma coach Bud Wilkinson and staying at home in Lawrence to play for the Jayhawks.
"I just walked into his office and said, 'You're looking for a quarterback. Why not give me a try? We're running the Oklahoma split T so I'll be like a running back anyway.' He said, 'OK.' Then of course when he talked about it, he said that the coaches had discussions about it and decided this would be the best option," Hadl said with his signature smile.
He said he never regretted switching from Oklahoma to Kansas.
"They would have put me on defense and nobody ever would have heard from me again," Hadl said.
At Kansas, in addition to earning All-American honors as a halfback and then quarterback, Hadl played some defensive back, returned punts and once led the nation in punting with an average of 45.6 yards. He had a knack for big plays long before he made so many for the Chargers. At KU, he returned an interception 98 yards and had a 94-yard punt.
Hadl also has the distinction of having been Hall of Fame quarterback Steve Young's first professional head coach with the Los Angeles Express of the USFL in 1984, and Hall of Fame QB John Elway's first professional quarterbacks coach with the Denver Broncos in 1983.
At various times, Hadl has served his alma mater as an assistant athletic director and assistant football coach. In his current role, he's the closer with big-ticket donors to the athletic department. You might say he's the Mariano Rivera of the athletic department. He's really good at it not just because he can dial up stories about John Wayne, Joe Namath and countless other celebrities from that era whose company he kept, but even more so because he's an exceptional listener.
Hadl, 72, walks a little bit like an aging cowboy in an old-time Western, the slow, confident gait of a man who doesn't have to hurry because he's sure the world will wait for him. But don't let that amble and his easy manner fool you. The competitive fire still burns within the man.
For 10 years, the coolest piece of memorabilia at Lawrence Country Club hung on the wall. It was an ancient Arnold Palmer putter behind a glass-encased frame with an inscription informing that it had been donated by local legend John Hadl. Palmer had signed the putter for Hadl on its face and on the grip. Dwight Perry, one of Hadl's closest friends, had built the classy case for it. A little more than a year ago, an angry-at-himself — in golf there is no one else to blame — Hadl walked into the pro shop and told popular, ever-smiling head pro Jon Zylstra that he needed his putter back.
"But John, you donated that to us," Zylstra protested. "You can't take that back."
"I don't care," Hadl said. "I'm taking it back."
"Well, OK, but you'll have to ask Dwight Perry how to get it out of the case," Zylstra said.
Perry told Hadl to bring a hammer, break the glass and pull the putter out. So Hadl showed up in the pro shop with a hammer, ready to reclaim his putter in hopes it would bring his stroke back. Zylstra couldn't believe it and ultimately spared the case by figuring out another way to open it without taking hammer to glass. He handed the putter to Hadl, who has used it ever since.
"You can't see the autographs anymore," Hadl said, pointing to where they once were. "That's OK. I'm going to get him to sign it again because I know where he lives."
Based on the stroke Hadl displayed Thursday, recovering the putter was worth the trouble. On No. 13, Hadl put a sweet stroke on a 30-foot, right-to-left putt to a tough pin placement with a steep drop late in the putt. The putt tracked on the money and somehow stopped right on the lip. Instead of winning the skin, he pushed the hole, causing a carryover. I almost felt bad about it not dropping. Almost.
On No. 14, Hadl appeared in good shape to snag the double-skin until one of his foes executed what had to be one of the finest shots in LCC's 98-year history. Surely, Hadl must have thought of his cart partner, he was not going to try to go over what must be one of the tallest trees in Lawrence, with the tree so close and the pin 120 yards away, was he? Sure enough, in a bold and courageous move, Hadl's cart partner slammed down on a pitching wedge, cleared the tallest tree in Kansas and several surrounding states, and the ball rolled onto the green. Two putts later, the par stole the double skin out of Hadl's pocket.
One less item on the bucket list. Soon Hadl will cross off one of his top items. Finally, he has received an invitation to Augusta National and is scheduled to play on consecutive days there in January. He can't wait to drink in its beauty. Still, it's worth asking: Even at the pristine site of the Masters, will Hadl witness anything that for sheer beauty can match the shot he witnessed from his cart partner Thursday on No. 14 at LCC?